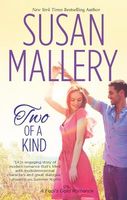 Series:
Fool's Gold
(Book 12)
Felicia Swift never dreamed she'd hear a deep, sexy voice from her past in tiny Fool's Gold, California. The last time Gideon Boylan whispered in her ear was half a world away…on the morning after the hottest night of her life. Her freaky smarts have limited her close friendships, and romance, but she came to Fool's Gold looking for ordinary. Gorgeous, brooding Gideon is anything but that.

Black Ops taught Gideon that love could be deadly. Now he pretends to fit in while keeping everyone at arm's length. Felicia wants more than he can give -- a home, family, love -- but she has a lot to learn about men…and Gideon needs to be the man to teach her.

As these two misfits discover that passion isn't the only thing they have in common, they just might figure out that two of a kind should never be split apart.
Another excellent visit to Fool's Gold. Felicia has come to town to help her friends get their bodyguard school up and running. She is amazingly intelligent but socially awkward and is looking for a little "normal" in her life. Gideon came to Fool's Gold a year ago and bought two radio stations where he is basically hiding out. Four years ago they had had an incredible night together. They are still attracted to each other but want totally different things - Felicia wants a family and Gideon wants to avoid emotional ties. But she thinks he's the only one who can teach her about men. Just as they start to settle in to a dating/friends Gideon is confronted with a thirteen year old son he didn't know he had. Now it's Felicia's turn to help Gideon.
I loved Felicia. She is so intelligent that at the age of four her parents couldn't handle it and gave her to a university to raise. As a result she is highly educated but never learned how to relate to people. When she talks to people she tends to take things literally and often goes off on scientific tangents. She joined the military where she was assigned to do logistics for a Special Forces group, which is where she met Justice, Ford and Angel. They asked her to come to Fool's Gold and use her talents to help them set up their business. She has come to love the town. She has made friends with some of the women who gently tease her about her "scary smarts" but treat her as one of their own. I totally loved some of the conversations they'd have when Felicia would say something completely unexpected. Felicia was surprised and a bit embarrassed to find Gideon in Fool's Gold and spent some time avoiding him. Once they reconnected she discovered she was still attracted to him and in her own bluntly honest way let him know that she was available. I loved her confidence that she could sleep with him and not fall for him. I also liked the way that she could talk to him about anything. When the mayor asked her to take over running the festivals it was Gideon she went to for advice. I really liked the way that he supported her and gave her the confidence to do it. I enjoyed seeing her take on her first festival. The descriptions of her thoughts and reasoning, then the reactions of the attendees and vendors were so great that I felt like I was there. Gideon's arrival and his ability to calm her panic attack was sweet. When his son showed up it was Felicia's turn to help him as she moved in with them to help Gideon learn what to do. Felicia had absolutely no experience with parents but she had really good instincts. I loved seeing her relate to Carter. Even her odd way of talking helped her with him because he thought it was cool. As the weeks went on and she continued living with Gideon and Carter her emotions became more involved. She began to dream of actually being part of a true family with them.
I liked Gideon too. He was hiding out in Fool's Gold. While he had been in the military he was captured and spent two years being tortured and watching the rest of his men die. Seeing them suffer as they thought of their families made Gideon vow he would never have one of his own. He was also suffering from terrible survivor's guilt since he was the only one who survived. He still suffers from terrible nightmares and flashbacks and considers himself to be irreparably broken. He is surprised to encounter Felicia in Fool's Gold. He has great memories of their night together and wouldn't mind a repeat but he realizes that Felicia is looking for permanent and he won't go there. When she shows up at his house late one night to ask his advice, their desire takes over. He's honest with her about his inability to commit but she just wants him however she can get him. I loved the way that he agreed to help her learn about dating men by taking her on some dates himself. I also loved the way that he gave her the confidence to take the festival planner job. I liked seeing the way that he couldn't stop himself from checking on her while she was working her first festival. One of the things I liked best about Gideon was the fact that Felicia's intelligence didn't bother him. He really enjoyed the things she said and how her mind worked. When his son showed up in Fool's Gold needing a home Gideon was obviously terrified by the idea. He had no idea how he was going to be able to be a father. He was desperately relieved when Felicia offered to help out. I enjoyed seeing the way he pretty much did whatever she told him to do when it came to Carter. As the weeks went on he got used to having them in his house, but he was still avoiding letting either of them emotionally close. When Carter makes a desperate attempt to show Gideon that they should be a family he really panics and pushes them away. I loved the way that his friends tried to help him and the way he finally was able to open up.
The secondary characters were just as well done as Felicia and Gideon. Carter was the most important of those. While he showed a lot of intelligence and ingenuity, he was also a fairly typical thirteen year old. He showed some of the age appropriate attitudes but thanks to Felicia he was good at accepting consequences. I enjoyed his friendship with Reece and their scheme at the end was pretty good. Mayor Marsha's brief appearances were always great, if a little spooky. It can be a little scary how she seems to know so much about people. I loved seeing more of Ford and Angel and their competition and newcomer Consuelo's ability to cut through their crap. I'm looking forward to stories for all of them.