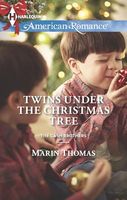 Series:
Cash Brothers
(Book 2)
Cowboy Up, Daddy
Conway Cash is finally ready to settle down, and he has the perfect woman in his sights. The only thing is, he's dead set against being a father--and Isi Lopez has twin four-year-old boys. When he finds himself roped into babysitting for them, life starts getting complicated
Kids or no, Conway soon discovers he and Isi make a great couple. And hanging around with her kids isn't so bad--that is, until they beg him to be their new daddy. The pressure is piling up for this formerly footloose cowboy...but with some luck, and a whole lot of Christmas spirit, Conway just may find himself in the center of his own ready-made family
I loved this book. Conway and Isi were perfect for each other. Conway would really like to find a wife and settle down, but he wants a woman who doesn't want kids. He is one of six boys who all have different fathers. As a boy he felt the lack of a father so when he was old enough he went looking for his. What he found was a man who had no problem walking away from his responsibilities, as did his grandfather. Conway was afraid that this meant he would do the same thing, so he would just avoid being a father. He thought he had found the perfect woman in Isi, until he discovered that she was a single mother. Instead, they became friends with Isi spending a lot of time listening to Conway's dating woes and Conway hearing about her college classes and her kids. When Isi loses her babysitter Conway gets roped into filling in. Conway discovers that hanging around with the twins isn't as hard as he thought it would be. I loved the way that he plays with the boys but also ends up being a role model. I loved the part where he sat in on their preschool class to find out what was going on with the kids who were bullying them. There are some great scenes with them at a rodeo and also when he has them at the pecan farm. He panics when the boys ask them to be their daddy, still fearing that he's not up to the task. I also loved the way that he got closer to Isi as they spent more time together. As he learned more about her life he was impressed by her determination and the way she has overcome so many obstacles. I loved the way it was Dixie who pointed out to him that his feelings for Isi were very different than those of his father for his mother. The Christmas Eve scene at the farm was lovely.
Isi is a woman who has overcome amazing odds. She grew up in Argentina in a very poor family. Her brothers became part of a gang in order to get the money to support the family. They were killed in a shooting, leaving Isi with just her mother, who died when Isi was eighteen. Isi then moved to America for a better life. She fell for a man, but found out after she got pregnant that he was married. She has been raising her twins by herself, working at the bar at night and going to classes during the day. When she met Conway she was immediately attracted to him, loving his carefree outlook on life. When he makes clear that he doesn't do relationship with mothers, she settles for being his friend. I loved the way that she tried to stay out of the way of the buckle bunny at the beginning of the book but ended up in the middle of it. She was surprised at Conway's care of her after that. I loved seeing him feel guilty over it and how she used that guilt to get him to babysit at the beginning. She was really surprised at how good he was with the boys considering how anti-fatherhood he was. While she didn't necessarily agree with the way he did everything, she was impressed by the effect he had on her sons. She was worried about what would happen when he was no longer in their lives on a daily basis. Seeing him with the boys just made her love him more because she could see what a good father he would be. She also found she was willing to give in to the attraction even knowing there was no future in it. I really enjoyed the way she got to know Conway's brother Will and allowed Will to give Conway the impression there was something between them. It just reinforced her knowledge of how much he cared but how afraid he was. The Thanksgiving get-together was a lot of fun. Isi admitted how envious she was of his family and how she longed for something like that for herself and her sons. I loved her Christmas surprise.