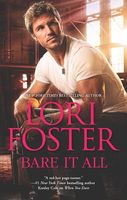 Series:
Love Undercover
(Book 2)
As the person responsible for taking down a brutal human trafficker, Alice Appleton fears retaliation at every turn. No one knows about her past, which is exactly how she prefers it…until the sexy cop next door comes knocking.

Detective Reese Bareden thinks he knows what makes women tick, but his ever-elusive neighbor keeps him guessing like no other. Is his goal to unmask Alice's secrets? Or protect her from a dangerous new threat? One thing is certain: their chemistry is a time bomb waiting to explode. And with no one to trust but each other, Reese and Alice are soon drawn into a deadly maze of corruption, intrigue and desire -- and into the line of fire….
Very good book with plenty of action. We have the alpha hero who also has a sensitive side and a kick-ass heroine who is also vulnerable. Reese has been fascinated by Alice for quite awhile, but she doesn't let anyone get close - until she came to the rescue at the end of
Run the Risk. With Reese's apartment being a crime scene, Alice offered to let Reese stay at her place for a couple days. This suits Reese perfectly since he's been looking for a way to get to know Alice better. It doesn't take long for him to realize that she's hiding something which just motivates him more. Those secrets soon put her in danger once again and it's up to Reese to protect her.
I loved both Alice and Reese. Alice was one of the women rescued by Trace in Trace of Fever. She had been forced to work for the bad guy and is still suffering a lot of guilt over that fact. She also fears that if her part in the takedown were known she would be hunted down and killed. So she works from home and keeps to herself. She can't stand by and do nothing when Reese is attacked and ends up letting him stay in her apartment. While she is very good at blending in, she can be a real kick-ass kind of woman. She is determined never to be a victim again and has multiple weapons hidden around her home. She is also very good at reading people which creates some very amusing situations throughout the book. I loved her bluntness and the effect it often had on the men. She has worked very hard at keeping Reese at arm's length, but she also has been taking care of his dog which opens her up a bit more than she is comfortable with at first. Alice is also fascinated by Reese and very attracted to him. I loved the way that she had a tendency to stare at his body and he was constantly telling her "Eyes up here". When it comes to Reese she is an intriguing mix of shy/nervous and aggressive/confident. I loved the way that she had little trouble showing him that she wanted him, but she also had some serious self-worth issues because of her captivity. Those scenes between them were explosive. Alice also had trust issues with most people but trusted Reese almost from the beginning. Though it took a little while to do so, she soon opened up to Reese about her past. She was afraid that it would change the way he treated her and was surprised when it didn't. Their conversations when the subject of the trafficking and her current activities came up were great. He gets so frustrated by her methods and not being careful enough. He'd also rather she came to him for help. Alice was constantly surprised by his protectiveness and also his trust in her. I really enjoyed her relationship with Rowdy and how that friendship drove Reese nuts. She also started being able to trust other people and developed friendships of her own with Reese's friends. I loved the way that her impulsive act of rescuing one girl from traffickers snowballed into helping Reese and Logan take down a trafficking ring.
Reese is a big tough man who actually has a pretty soft center. As a cop his protectiveness has the perfect outlet. He has been fascinated by Alice for a long time but she doesn't let him get close until he needs help with his new dog. When she offers to let him stay in her apartment until his is no longer a crime scene he jumps at the chance. It quickly becomes obvious to him that she is just as attracted to him as he is to her but that she has some major trust issues. I loved the way that he tries so hard to be patient and let her decide when she is ready. When he discovers all the weapons she has hidden around the place he is determined to find out her secrets. I loved how he uses her attraction to distract her enough to get her talking about her past. His protectiveness really came out when she told him what had happened to her. It didn't take long for his feelings to go from simple attraction to something deeper. He really tried to fight it for awhile but soon accepted that he wanted more with her. I loved his jealousy over her friendship with Rowdy. Some of the conversations centering around him were hysterical. When she put herself at risk by rescuing Cheryl he was afraid for her safety and determined to do whatever it took to keep her safe. When he discovered the connection between her rescue and a case that he is working on he is even more worried about her. I loved the way he got closer to her with each bit of her past that was revealed. I also liked the way that he appreciated her strength and her abilities. It was very hard to include her in the final takedown even though he knew he had to. I loved how he was the first to admit his feelings.
I loved seeing so much more of Rowdy. He is obviously uncomfortable with his new role on the right side of the law but is slowly getting used to it. I loved the interactions between him and Reese, especially when it came to Alice. There was a great scene where she compared him to her having a close girlfriend to confide it - it was hilarious. I also liked seeing more of his developing relationship with Avery and the story behind his acquisition of the bar. I really can't wait to get my hands on his book.
One of the best parts of the book was the brief appearance of Trace Rivers. He's mentioned earlier in the book in regards to his rescue of Alice. I loved the way Reese was so jealous even though there was no reason to be. I loved seeing him just appear at Alice's apartment. The interaction between him and Reese over Alice was so much fun to see. I also loved his comparison of the two men being handcuffed to beds and rescued by women.