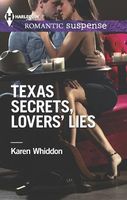 Every time Brock McCauley locks eyes with Zoe Onella, his heart aches. Though Zoe explains why she skipped town, leaving him at the altar years ago, Brock refuses to go down that road again. After all, she's only back in Anniversary, Texas, to help investigate the bizarre disappearance of her best friend, Shayna.

The sooner they find Shayna, the sooner Zoe can return to New York. But Brock can't stop thinking about the hot passion they once shared. And when danger surrounds Zoe, he must protect the only woman he's ever loved. Even if it costs him everything.
I had a really hard time connecting with this book. Zoe has come back to town to see if she can find her best friend Shayna. She hasn't been back since her mother's murder and dumping Brock shortly before their wedding. She doesn't want to see him, but it's a small town so she knows she will. Meanwhile Brock is still furious over her actions and doesn't want to be around her either. They have to work together to figure it out and discover that their passion never went away. But can they overcome past hurts and move forward.
Zoe has come to help find her "best friend". I started right there having a problem with Zoe. She had been gone for five years. In that time she had never invited Shayna to visit. She only talked to her occasionally on the phone and the last time Shayna called Zoe blew her off because she was going out. Those are not the actions of a best friend. Now that she's back she's having to deal with her feelings for her ex-fiance. She had never stopped loving him and had left him for his own safety after she was threatened by the man who killed her mother. She didn't come back after he was caught because of some devastating medical news that again she kept from him for his own good. Their interactions during their search were erratic. First she'd be glad of his help, then push him away because she didn't trust herself with him. Even though she knew that she owed him a complete explanation of her actions she was still going to leave without telling him. I did like her determination to find out what happened to Shayna.
Brock has spent the last five years trying to cope with Zoe's abandonment. He tried drowning his sorrows for awhile, but got sober and now doesn't drink at all, though her reappearance causes the temptation to do so. He dated a lot and had one-night stands. He even had a short relationship with Shayna before they became just friends and roommates. He doesn't believe that there's foul play at first, thinking that Shayna had finally followed through on plans to leave town. He can't believe that he is still attracted and finally admits that he never stopped loving her. He spends most of the book blowing hot and cold also. He'll work with her for a bit then blow up and walk away, or just try to avoid her. He finally gets a partial explanation of why she left but senses that she hasn't told him everything. He realizes that he doesn't want Zoe to leave again and wants a second chance for a future.
The suspense part of the book just wasn't there for me. Yes, there was the mystery of what had happened to Shayna and having to sort through all the conflicting information. But there just wasn't any real sense of urgency until the very end. Even the culprit wasn't that much of a surprise. The other books I've read by her have been great, but this one just didn't compare for me.