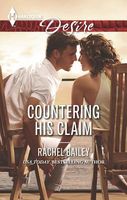 Never be distracted by a woman is hotel magnate Luke Marlow's golden rule, especially when the woman just inherited half his late uncle's luxury cruise liner. But ship's doctor Della Walsh is the exception. Her dignified beauty ignites Luke's desire despite his suspicions. Even so, he will gain full control of the ship at all costs.

For Della, the ship has been a sanctuary. Now she has just three weeks to change Luke's mind and save the ship -- until passion comes along and steers them off course….
Very good book with emotional growth on the parts of both Della and Luke. Della has been the ship's doctor for two years, ever since the death of her husband. She is physically and emotionally scarred and intends to lead a celibate life. She refuses to open herself up to the pain of that kind of loss again. She became good friends with the ship's owner and was there for him during his final illness. Luke is Patrick's nephew and has scars of his own. After family issues and a bad marriage, his motto is "No distractions. Rely on no one." When the will is read, they discover that each has been left half of the ship. Luke is determined to get full control of the ship, which he intends to anchor and make into a floating hotel. Della doesn't like that idea at all and is convinced that Patrick intended for her to show Luke the joys of cruising. She challenges him to spend three weeks on board. Neither expects the passion that flares between them. Della resists because of the scarring she suffered in the attack that killed her husband. She feels that no man would consider her body beautiful. It will take a great deal of patience on Luke's part to overcome those feelings. Meanwhile, Luke makes it clear that he doesn't do commitments of any kind. His parents had always been too busy to give him any loving attention and after his sister's death he was sent away to school. Patrick had been the only loving relationship he had, and even Patrick would only visit. Luke's brief marriage to a woman who used him cemented his resolve. I loved the slow developing of their relationship. Della learned that there was more to her than the scars on her body and Luke learned that there is more to life than the bottom line. I really liked seeing the way that being with Luke moved her out of her self imposed exile and opened her up to feeling again. Even though she knew the end of their relationship would hurt she embraced her love for him. Luke tried really hard to convince himself that what he felt for Della was only lust. I loved his patience and understanding once he knew about her scars. His feelings for her grow stronger even though he doesn't want to admit it. I thought the ending was absolutely perfect for the two of them.