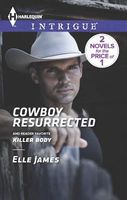 Series:
Covert Cowboy Inc.
(Book 4)
Thorn Drennan stares death in the face when he's nearly shot by a ranch trespasser. But this is no ordinary trespasser. Pregnant and running for her life, Sophia Carranza has crossed the Mexican border, leaving a trail of ruthless enemies behind.

Sophia's protection is Thorn's first assignment as an undercover agent and he senses trouble. Inexplicably drawn to Sophia's beauty and fighting spirit, Thorn fears his growing desire for Sophia could jeopardize the mission. And when Sophia's captors finally catch up to them, will Thorn trade his own life for another?
Excellent conclusion to the series. The action started on the first page and didn't stop until the bad guys were taken down. While checking the fence line Thorn finds Sophia hiding in a nearby line shack. She is on the run from her abusive fiance who is also a member of the Mexican drug cartel. His boss makes her protection his first assignment with CCI. He doesn't expect to feel an intense attraction to her as he tries to keep her safe. Sophia feels the attraction also but she also knows that her fiance won't give up until he has her back and will kill anyone who gets in his way.
I really liked both Sophia and Thorn. Sophia had been fooled by Antonio when she first met him, not knowing what he was really like until he got her away from her family and imprisoned in the cartel compound. Once there she was subjected to emotional and physical abuse. When she discovered she was pregnant she knew she had to escape. With the help and encouragement of another captive she got away and headed for the refuge the woman told her about. Her guide was killed along the way, leaving her to go the rest of the way alone. With a storm coming she took refuge in a shack, terrified that she would be found. When Thorn burst in, she thought she was doomed, until he convinced her that she would be safe. Finding out that his boss was the person she'd been sent to find was a relief, until they were attacked on the way back. She was convinced that she was putting everyone in danger and just wanted to be turned loose. The more she insisted on leaving the more determined Thorn was to keep her safe. She also found herself increasingly attracted to him, and those feelings grew the more she was around him. I loved her determination to escape her captivity and give her baby a chance for a better life. She pushed herself in amazing ways in order to get to Hank's ranch. Her concern for the safety of the others showed what a caring person she was. She had a hard time believing that they could protect themselves against the cartel. Every time it looked like she was going to be safe something would happen to shake her up again. She was constantly trying to give herself up to save others. Throughout everything she tried to contain her feelings for Thorn. She knew he still mourned his wife and child and didn't expect anything to come of their attraction. At the end she nearly lost everything.
Thorn had been emotionally frozen since the death of his wife and unborn child. As the local sheriff he had been targeted by a recently released criminal who missed him and hit his wife instead. He quit his job and had been doing mostly nothing until Hank hired him to be part of CCI. He wasn't happy about being assigned to Sophia because he was feeling things with her he hadn't felt since his wife's death. There wasn't anyone else available so he sucked it up and did it. It wasn't long before her beauty and determination started getting to him even more. Once they got past their initial meeting I loved his gentleness with her. He could see her suffering and wanted to do what he could to protect her. The more time they spent together the more he wanted to do for her. When he had to take her to his home as part of her cover it was hard to see her there where he pictured his wife. When that home was destroyed he finally started to see that he hadn't been living just existing and that was no way to honor her memory. He also started to realize that there was room in his life for more love.
The conclusion to the mystery was very satisfying. From the first book on the CCI have been fighting a battle against one of the drug cartels. It seemed that no matter what they did they couldn't get a break. It became obvious that there was someone on the American side feeding them information. More and more they were sure that there was a mole inside the FBI who was working against them. In this book Sophia's fiance seemed to be just one short step behind them whatever they did. There was a surprise piece of information that Sophia had that sent Hank and the CCI into Mexico to the cartel compound. It was there that the final confrontation with the cartel leader took place, ensuring a happy ending for all of them. In the last chapter, Hank talks about hiring some more cowboys, and maybe a cowgirl, for the CCI. I hope this means there will be more books for the series - especially the cowgirl one!