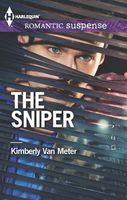 When Nathan Isaacs walks suddenly back into Jaci Williams's life, she wonders if she ever knew her ex at all. Because it turns out he was a government-trained killer…and the only thing standing between her and death.

Nathan gave everything to his country -- his life, his family, even the one chance he had for happiness with the woman he loved. Then the agency he worked for betrays him, and they're targeting Jaci, too. Now their only chance of survival lies in finding out why someone wants them dead.
This one definitely kept me turning the pages. Jaci is still in a funk after Nathan's rather brutal break up with her. When she and her best friend are stopped while leaving a bar Jaci is horrified to see the thug shoot and kill her friend right in front of her. Just as she is in the crosshairs Nathan appears out of nowhere and saves her. She resists his statement that she's in danger and has to go with him so he drugs her and takes her away. Once she comes to, he tries to convince her of the danger she is in. Jaci isn't sure she believes him at first and she certainly isn't happy that her attraction to him is just as strong as it was. As she and Nathan try to find out who is trying to kill them and why, Jaci has to decide if she can trust him with her life and her heart.
Jaci starts out pretty naive but gets an education in the seamier side of life. When she and Nathan had split a couple months before she had been devastated. She was deeply in love with him but had never seen past the shell he allowed her to see. When Nathan came to her rescue she made sure he knew that she was still furious. As the danger increases Jaci gets more involved. She refuses to stay behind when Nathan wants to go off on his own. She also starts to see more of the real Nathan as she doesn't let him hide any of the things that he has hidden from her. She insists on getting the whole truth from him. As she does she begins to see that Nathan's actions had been his way of trying to protect her. I loved the way that she took an active part in Nathan's investigation and stood up for herself against his protectiveness. I also liked the way that she had him figured out and knew how to push his buttons to get information out of him.
Nathan had been tagged to do special ops for a secret government group. As a sniper he was the one to take out bad guys. When a couple of missions didn't sit right he started asking questions. He was told to take some time off because they thought he might be headed toward burnout. This was when he met Jaci. He fell hard for her and thought that maybe he had a chance at a normal life, until he became a target for someone. In order to protect her he broke off their relationship in a way that he thought would keep her safe, but he still kept an eye on her. When he found out someone wanted to kill her he leapt into action. I loved the way that he was intent on keeping her safe but also wanted to protect her from the truth about his life. His love for her was still as strong as ever but he understood her bitterness toward him. He was completely unable to deny her when she started poking at his life and demanding answers. His jealousy over her friendship with James was fun to see, especially when they needed James's help. He was also surprised at how much she had changed in the two months they had been apart but the changes only made him love her more. I loved how those feelings kept him going at the end.