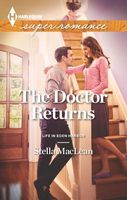 Series:
Life in Eden Harbor
(Book 1)
Secrets and second chances

Sherri Lawson seems to be the only person not welcoming Dr. Neill Brandon back to Eden Harbor, Maine. She has moved on from their shared past. Yet a part of her has never quite gotten over Neill -- or the baby she lost. The baby he didn't even know about….

She can't imagine a new relationship with Neill, much as she might want it. But it turns out that Neill wants it, too, and he believes they can make it happen. And to Sherri's surprise, so does his daughter, Morgan!
First of all, this was a bad blurb. Neill DID know about the baby and his daughter Morgan DID NOT want them together until the very end.
I had a hard time connecting with Neill and Sherri. Both of them seemed to be rather immature and selfish at the beginning, though they did change somewhat. They had dated through their senior year in high school, when Neill went off to Boston to med school. He wanted Sherri to go with him, even though he had no way to support her and he was going to school. Meanwhile, she had been accepted to nursing school in Maine. When she discovered she was pregnant she called and told him right away. He was shocked, distracted and made a half-hearted invitation for her to come to Boston. She refused and then refused to take his calls when he tried to reach her after that. She married another man who offered to take care of her and the baby. The baby died shortly after birth and her husband awhile after that. Meanwhile Neill went on with his life, becoming a doctor, marrying and divorcing another doctor and having a daughter with her. Now he's back in Eden Harbor.
Sherri has never really recovered from her relationship with Neill. All those feelings come out when he moves back to town with his daughter. When they meet to talk of the past she blames him for not coming to see her after her phone call. She doesn't accept any responsibility herself for the fact that she refused any contact with him after that, to give him a chance to make things right. She starts out still holding that all against him and not wanting anything to do with him. When she is diagnosed with diabetes and has an episode that puts her in the emergency room, suddenly she's willing to give him another chance. I can sort of understand the "life changing event" that makes her want to try again, but claiming love so suddenly seems a bit much. She and Neill want to be together, but she also has to deal with his nine year old daughter who doesn't want Sherri anywhere around her father. I liked the fact that Sherri realized that her plans to move to Portsmouth were a form of running away and that she changed those plans when she realized it. As her relationship with Neill took off she also has to deal with his daughter's hostility. She lets him know that she doesn't want to be caught in a battle with her and that until he can stand up to his daughter she won't be seeing him. I did think that the conclusion was well done.
Neill had been upset back when he left for med school and Sherri didn't drop everything to follow him. He had only been thinking about himself and how much he needed her. When she called to tell him about the baby he didn't react well and when he tried to reach hr multiple times later she wouldn't answer the phone. He finally gave up and let it all slide. He later married another doctor and then divorced her after realizing how self-centered she was and how she neglected their daughter. Now he has moved them back to Eden Falls. After seeing her again, he wants to rekindle his relationship with Sherri. He is surprised by her anger, then remorseful when he finds out everything she went through. She didn't like the way that he tried to blame her for their breakup because she wouldn't come to him in Boston. He did admit that he'd been a panicked idiot. He doesn't seem to understand that because of his actions she doesn't trust him and doesn't want to get involved with him again. His fear when she has her diabetic episode seems to get the strength of his feelings through to her. He finally gets her to start seeing him again and tries to take things slowly with her. Besides trying to revive a relationship with Sherri he also has to deal with his daughter and the way she wants her parents back together. He doesn't seem to be able to see that she has become quite good at manipulating both of them to get her way. He did some halfhearted explanations to her but it wasn't until he was thorough and blunt with her at the end that she started to accept Sherri's place in their lives.