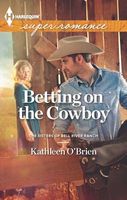 Series:
Sisters of Bell River Ranch
(Book 2)
No resisting this cowboy!

Brianna Wright has ventured to the Bell River Ranch to make peace with her sister. With enough time here in Colorado, Bree might accomplish that goal and forget the mess of her business back in Boston. Of course, none of that will happen if she lets herself get distracted by a certain gorgeous and charming cowboy -- Grayson Harper. Really, resisting a guy as carefree as he is should be easy for someone as responsible as Bree.

But it's clear Gray has his sights set on her, and his determination is stronger than Bree thought! As they work together on the ranch, she realizes there's more to Gray than his footloose facade suggests. If that's true, he just might win her over!
Very good book with a great deal of emotional turmoil as Bree faces her past. After a humiliating end to her engagement and business in Boston, Bree has come home to recover and make peace with her sister Rowena (Wild For the Sheriff). As the ranch gets closer to its opening as a guest ranch Bree finds herself involved in setting up the social programs. Gray has been hired as her temporary assistant and has become quite the distraction.
Bree is an interesting character. When she and her sisters were split up, Bree went to a family friend in Boston. She was well cared for but expressions of emotion were not encouraged, so she grew up learning to suppress them. She also had tendency to be judgmental though she was trying to overcome that. When she arrived at the ranch she wasn't sure that Rowena would accept her presence. They got off to a bit of a rocky start, but things started to improve between them. Gray's arrival at the ranch tested her control. She was very attracted to him but resistant to a relationship after the disaster of her engagement. I loved the way that they ended up working together and became friends while doing so. She had a couple great scenes with Gray's grandfather where she really blasted him. Bree had some issues from her past that made intimacy a problem for her. Being with Gray even with her issues went a long way toward breaking down the walls around her emotions. She had quite a breakthrough at the end which really opened up her heart. All she had to do then was wait for Gray to catch up. I love the way that Bree really got into the work she was doing at the ranch. She really started to feel like she belonged there especially after she and Rowena were able to work out some more of their problems.
I loved Gray. He returned to Silverdell to have it out with his grandfather. He was intent on getting his grandfather to admit to some financial shenanigans that affected Gray's father right before his death. Gray had been raised by his grandfather after his parents died and had resented his grandfather's super controlling attitude. After being as rebellious as he could as a teen, he escaped when he went to college. His grandfather now bets Gray that he can't hold a manual labor type of job for four weeks. He says he will put Gray in his will if he succeeds. So Gray takes the job at Bell River Ranch, determined to beat his grandfather. He is immediately attracted to Bree and plans to get her into a temporary relationship while he's there. It isn't long before he finds that there is more to his desire than just wanting to sleep with her. I loved the way he came to her rescue when her ex-fiance showed up and how that event showed him the insecure woman behind the cool facade. I loved the way that he worked so well with Bree and how their abilities complemented each other. His care for her after their first night together was sweet and I loved what he did later. It was fun seeing the way that the carefree cowboy was suddenly feeling emotions that he didn't know how to deal with. I also had gotten the feeling that Gray hadn't quite been truthful about his employment history with his grandfather or with the sisters. I loved his reappearance after his disappearing act and the way he resolved their problems.