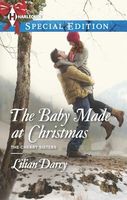 Series:
Cherry Sisters
(Book 2)
Independent Lee knew she had a cushy life in Aspen. A great job as a ski instructor, a luxury home (well, the caretaker's apartment, but it was right on the slopes). And a new fling with new coworker Mac Wheeler. He was handsome, athletic, sexy -- après-ski had just gotten a whole lot better!

Only it was never meant to get serious. She's pregnant. Mac's baby, conceived at Christmas. Overnight, her plans change: she's moving back East to work at the family hotel with her sisters.

But the real shock is. . . Mac has followed her.
Yes, 1,700 miles!
Determined to be. . . what - angry? Sure.
Daddy? Guess so.
Husband. . . ? Who knew. . . !
Overall a pretty good book. Lee is living the life she wants. She's got a great job as a ski instructor in the winter, guide in the summer. She can do whatever she wants, when she wants to. When she meets Mac the chemistry between them is hot. Neither one is interested in anything serious, both are independent and like their space. The Lee discovers she's pregnant and has some decisions to make. So she tells Mac and then leaves town to go home to her family. A week later Mac shows up, determined to be part of the baby's life. But is that all he wants?
I had some trouble warming up to Lee. Sometimes her independence felt pretty selfish to me. She seemed far more concerned with how their relationship affected her and not too worried about Mac's feelings. Once she discovered she was pregnant she dropped the bombshell on him, told him she was headed home and that was that. She sure didn't expect him to give up his job and follow her. She's having a hard time dealing with his overprotectiveness and starts to feel smothered until they agree to take things a day at a time. As time went on and they got closer she still worried that they were together for the wrong reasons. She didn't want him to be there just because of the baby, but she was afraid to expect more. Her fears nearly drove him away permanently until she was finally able to face them.
Mac really liked Lee and enjoyed their time together. He appreciated her independence and that she wasn't the clinging type of woman. He was blindsided by her pregnancy announcement, which brought back some bad memories. Years earlier a girlfriend had gotten pregnant but carried her independence too far and took a lot of risks. She ended up having a snowboarding accident that caused her to lose the baby, devastating Mac. Now he's watching Lee like a hawk to make sure she doesn't do the same thing, not ready to believe her when she says she won't take risks. He finally starts to relax but they still avoid any talk of the future. When Mac admits to himself that he wants it all he still has to try to convince Lee.
I think my biggest frustration with both Mac and Lee was their inability to actually talk to each other about their feelings and their dreams for the future. If they had stopped with the day to day lifestyle they would have been happier. I sure hope that they get the hang of it soon.