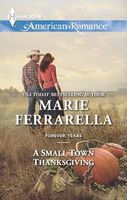 Series:
Forever Texas
(Book 8)
A LOT TO BE THANKFUL FOR

Ghostwriter Samantha Monroe has just arrived in Forever, Texas, to turn a remarkable woman's two-hundred-year-old journals into a personal memoir. The Rodriguez clan welcomes her with open arms…and awakens Sam's fierce yearning to be part of a family. But it's the eldest son -- intensely private rancher Mike Rodriguez -- who awakens her passion.

Hiring Sam to preserve his great-great-great-grandmother's story for future generations was Mike's inspiration. He just didn't realize how much he'd want her to be part of his family's continuing saga. Delving into the past has made Sam hungry for a future -- with Mike. The next move is up to him -- if he doesn't make it, the best woman he's ever met just might waltz back out of his life forever!
First, the cover blurb isn't entirely accurate. It wasn't Mike's idea to hire Sam, it was his father's idea. Mike started out against it. He doesn't like having strangers on the ranch and is initially afraid that Sam will be some kind of con artist who will take advantage of his father. Sam is surprised by how warmly she is welcomed by most of the family. It's her reaction to Mike that has her wishing for something she's never had.
I really liked Sam. She had been on her own a lot as a child because, as a single mother, her mom spent a lot of time working to make ends meet. That made her pretty independent. When she was eighteen her mother married and left with her husband leaving Sam completely alone. She later married her high school sweetheart but he died in an accident soon after the wedding, leaving her alone again. Her ghostwriting job came about as a way for her to deal with the loneliness. I really liked the way that she had no trouble standing up to Mike and his negative attitude. I really loved how most of the family made her feel so welcome and how she started to feel a little bit like part of the family. She wasn't sure how to deal with the attraction she felt for Mike as it was unlike anything she had ever felt before. As Mike's father found ways to throw them together she began to see a different Mike than the one she first met and her feelings for him began to grow. She was excited to have the job working on the journals because it was something very different than she had ever done before. She also began to identify with his ancestor's feelings about her life and choices. I loved Sam's involvement in the family's Thanksgiving celebration and how much it meant to her. I loved the change in her relationship with Mike and ached for her lack of confidence that anything would come of it. I loved the way it ended and what Sam told Mike about her dream for her future.
Mike is sort of the odd one out in his family. As the oldest he's always felt the responsibility for his family and the ranch. He doesn't seem to resent it, it "just is what it is". He's also not as social as his siblings. He does value his privacy and is frustrated by the way his father is constantly inviting strangers to stay at the ranch. He seems to have a more cynical view of life as he is sure that the writer who is coming is some sort of con artist out to take advantage of his father. Meeting Sam seems to put an end to that viewpoint. He also is so stunned by her beauty that he has a hard time thinking around her and making sense when he tries to talk to her. He's a bit frustrated by the way his dad keeps making him take Sam to do things off the ranch. He'd rather stay away from her and the feelings she's causing, but there's no way to say no to his father. I loved the way that he got to know her and discover that she's not the kind of person he thought she was. Just being around her caused changes in him that everyone else noticed but he didn't want to admit to. It was fun seeing the way it took his brother Eli making him face the truth for him to have the courage to go after what he wanted. It was so sweet seeing what he offered just so that they could be together.
I loved seeing more of Miguel and how much love he had for his family. I really enjoyed the way he got his kids to do what he wanted them to do without threats or yelling. It's always great seeing more of the previous characters and what they are doing now. Mike's comments to Cash about getting sleep while he can before Alma's baby arrives were fun to see, as were Alma's suspicions about what Mike was telling him.