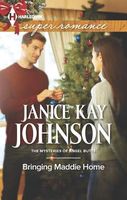 Series:
Mysteries of Angel Butte
(Book 1)
There's always one case…

The moment police Captain Colin McAllister sees her on TV he knows. She may call herself Nell Smith, but she is Maddie Dubeau -- the girl who went missing from Angel Butte, Oregon, years ago. She's haunted Colin, and now the adult version of her is so captivating, he can't stay away. He wants to help her recover her memories -- even solve her case -- without crossing a professional line.

But distance becomes impossible when the threats against her escalate. It's clear someone is determined that Nell never remembers what happened to Maddie. Colin must keep her safe so that he can finally bring her home…to his home.
Good book. It starts out with Maddie waking up in a car trunk, injured and not being able to remember what happened or even who she is. She manages to escape and we pick the story up twelve years later. She is calling herself Nell Smith and still has no real memories of who she is, just some flashes of memory. When she is approached by Colin she is afraid but overcomes those fears to go back to Angel Butte in an attempt to regain those memories. She depends on Colin for his strength and his protection when it appears that someone is trying to keep her from remembering.
I really liked both Maddie/Nell and Colin. Nell's strength of purpose and ability to survive made her escape possible. As scared as she was she was still able to figure out a way to remove herself from danger. I enjoyed seeing the way that she had made a new life for herself and was using her experiences to help others. Her fear when Colin approached her was obvious, but she listened to what he had to say. I liked the courage it took for her to go back and face her fears as she tried to regain her memory. Nell was very happy to have Colin there for support as she faced various people from her past. She also had to deal with her attraction to him. She worried about how things she had done would affect his opinion of and feelings for her. She was also having problems reconciling her two selves - Maddie the teen who had gone missing and her personality and Nell the woman she had made of herself. I really liked seeing the way she had matured and was able to stand up for herself. The return of her memory and what it meant for her was pretty intense as the person who was trying to kill her nearly succeeded.
Colin had been a brand new cop in Angel Butte when Maddie disappeared and was the first on the scene when her bike and wallet were found. In the intervening years hers is one of the cases that has haunted him. When he spotted her while in Seattle he was sure she was the missing Maddie. Her fear when he approached her made him wonder what had happened to her and suggested that returning to Angel Butte might help her remember. He also sensed that the decision had to be hers and told her that he wouldn't force it. He gave her his phone number and told her to call if she wanted to talk to him about it. He was happy when she called and they spent a couple weeks talking before she finally got up the courage to come home. Colin worried about her and offered her the use of the apartment over his garage while she was in town. Getting to know her on the phone and then in person made him realize how empty his life had been. He worried about the wisdom of getting involved with her but he couldn't help himself. He also worried about whether his feelings were just a continuation of his fascination with her case or really for her. I loved his sensitivity to her feelings of confusion and how he was there to support her when she needed him. His work at the end to save her was exciting and I loved the conclusion with their admission of their feelings.
The mystery of who had tried to kill Maddie was solved by the end in a very satisfying manner. I did begin to suspect the perpetrator by two thirds into the book but the intensity was still there. There is also on ongoing investigation into the police chief that has not yet been resolved. I expect that there will be more about it in the next book, which stars Colin's sister and the mayor.