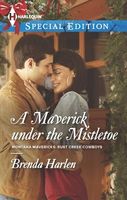 Series:
Montana Mavericks: Rust Creek Cowboys
(Book 5)
RUST CREEK RAMBLINGS

Sutter Traub is back in town! It's been five years since that handsome wrangler took off for Seattle, but no one 'round here has forgotten. Especially not Paige Dalton, the devoted schoolteacher everyone thought he was going to marry. . .

Rumors abound. No one is quite sure what has brought Sutter home after all this time -- or whether he is deserving of a second chance. But we are betting there's a certain brown-eyed beauty with a special request on her Christmas list. Maybe the power of her forgiveness will bring the mighty maverick home for the holidays -- and for good!
Very good book, a story of reunion and second chances. Sutter had left Rust Creek Falls five years earlier after a disagreement with his family. He didn't agree with his brother Forrest's plan to re-enlist and go back to Iraq and he was told he wasn't welcome anymore. He was in love with Paige and asked her to marry him and go with him. Paige was in the middle of her teacher training and also didn't really want to leave her hometown. She turned him down and they were both left broken-hearted. When Sutter heard about the floods he returned home to help where he could, even though he was still on the outs with his family. Then his brother Collin asked him to stay and be his campaign manager during his bid for mayor. Sutter left his successful horse business in Seattle in the hands of his managers and stayed. The longer he was in town the more he realized he still cared for Paige, if only he could get her to give him another chance. Both of them are very stubborn and need to get past their history if they're going to have a future.
I really liked Sutter. Even though his family troubles had kept him away except for very brief visits, his love for his family was as strong as ever. There was no way he could remain in Seattle if he was needed at home. He still was not comfortable around them for long periods so he was living in a guest house on the ranch. He enjoyed helping Collin with his campaign which went a long way toward healing things between them. He and Paige mostly avoided each other until the night she stood up for him in front of the town. At that point, Sutter realized that his feelings for her had never died and that he wanted a chance to start over. I loved seeing the way that he used his memories of her to get her to spend time with him again. He worked hard to overcome the mistakes he had made in the past and let her know that he still cared. He also knew that if he wanted any kind of chance with her he was going to have to settle things with his family. The scenes with his mother and Forrest were incredibly moving and showed just how important family was to all of them. The more time he spent in Rust Creek Falls the more he had to admit that he missed it. He had to figure out how to reconcile his love for Paige and his business. He still managed to make some bone-headed mistakes that nearly derailed them again, before he got it right.
Paige had been devastated when Sutter left five years ago and didn't try to contact her again. She had been deeply in love with him but unable to leave with him. She never expected him to stay away. Now that he's back she has been trying to avoid him. She can't stand by and see him attacked for standing up for his feelings and then sends him after her to say thank you. Paige is desperate to protect her heart from being broken again and she tries very hard to stay away from him when he wants them to go out together. She knows his life is still in Seattle and hers is in Montana. She can't resist him any longer though and they end up spending a lot of time together. She continues to try to deny her feelings, even as she has to admit that no other man has been able to measure up to Sutter. I liked the way that she realized that he was never going to be truly happy until he reconciled with his family and loved the way she got him and his mother together. She was close with her own family but they also got on her nerves occasionally. I loved seeing her stand up to them when it came to her relationship with Sutter. I understood their desire to protect her but I thought they could be pretty obnoxious. There was one scene where I thought her sister Lani was lucky that Sutter didn't dump a beer on her she was so rude. Paige still had some insecurities when it came to Sutter and whether he would stay in Rust Creek Falls. She pulled a pretty cowardly move when he got called back to Seattle and I wanted to smack her. It was good to see her finally realize that they belonged together.