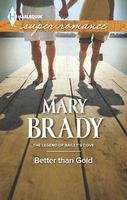 Series:
Legend of Bailey's Cove
(Book 1)
A life-changing discovery

Mia Parker's restaurant-in-progress is the best shot Bailey's Cove has at survival. That is, until a two-hundred-year-old skeleton is unearthed on-site. It doesn't help that the investigator -- sexy, guarded anthropologist Daniel MacCarey -- instantly charms her to distraction. Add in rumors that the remains belong to a pirate -- and that his treasure might be buried nearby. Mia's trapped in the mystery that jeopardizes everything.

Despite the risks, Daniel can't resist offering to help Mia. Nor can he fight the attraction that reels him in. And working together, they may find a treasure better than any other….
Good book. Mia has returned to her hometown to open a restaurant as a way to draw tourists to Bailey's Cove. The town is slowly dying and she wants to reverse that trend. Things are going slowly when one of her workers finds a skeleton behind one of the walls. Suddenly all her plans are on hold as an investigation into the identity of the bones begins. The anthropologist sent by the university is charming and sexy and she's not quite sure how to deal with him. When evidence suggests that the skeleton could belong to a pirate her dreams could fall apart.
Mia came back to Bailey's Cove because she was homesick. She loves her home and can't imagine being away from it again. As she sees more people moving away she comes up with the idea of opening a restaurant that will be the start of a way to bring people to their town. When one of her workers finds the skeleton she has a really bad feeling about the future of her plans. Daniel turns out to be quite a distraction for her. She is incredibly attracted to him but she needs to keep her mind on getting her project back on track. I really enjoyed seeing them work together to find out who the bones belonged to. In spite of her worry she really enjoys the research process and the time she gets to spend with Daniel. She finds herself falling for him even though he had made it clear that he isn't relationship material. Mia also is very independent and doesn't like to rely on anyone else. She doesn't like to ask for help and there are several times throughout the book where she pushes others (especially Daniel) away when they want to help her. I loved the ending and seeing Mia and Daniel come together.
Daniel has become a loner. He enjoys his job as an anthropology professor but keeps his emotions locked up since the death of his son and his divorce. Being sent to check out these bones could be good for his career at the university. The more he hears about the possible identity the more he is intrigued. He is also intrigued by Mia. In spite of all the trouble this is causing she doesn't seem to hold a grudge against him. His attraction to her is causing him his own set of problems. He won't allow himself to get close to another woman because the genetic defect that caused the death of his son came from him. But he also finds that he can't stay away from Mia. I really liked the way that he tries to find a way for his work to impact hers as little as possible. The more time they spend together the bigger the impact she has on his outlook on life. He can't stop thinking about her and his own feelings are growing also. Daniel is also dealing with the loss of his great aunt, the last of his family. She left him a ring and some family history that have an interesting impact on the mystery of the skeleton. Daniel also has some pressure being put on him from the university regarding the site and ends up having to make some difficult decisions. I got a bit frustrated with the way he kept pushing Mia away, but he sure made up for it at the end.
There was also a sweet secondary romance between Mia's best friend Monique and one of the local cops. I enjoyed the friendship between Mia and Monique and the way they supported each other. Monique had an important part in the conclusion.