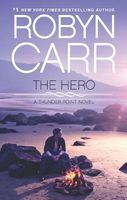 Series:
Thunder Point
(Book 3)
In a moment of desperation, Devon McAllister takes her daughter and flees a place where they should have been safe and secure. She has no idea what is around the next bend, but she is pretty certain it can't be worse than what they've left behind. Her plan is to escape to somewhere she can be invisible. Instead, an unexpected offer of assistance leads her to Thunder Point, a tiny Oregon town with a willingness to help someone in need.

As the widowed father of a vulnerable young boy, Spencer Lawson knows something about needing friendship. But he's not looking for anything else. Instead, he's thrown his energy into his new role as Thunder Point's high school football coach. Tough and demanding to his team, off the field he's gentle and kind…just the kind of man who could heal Devon's wounded heart.

Devon thought she wanted to hide from the world. But in Thunder Point, you find bravery where you least expect it…and sometimes, you find a hero.
Very good book. Devon has taken her daughter and escaped from the commune where she was virtually a prisoner. She is picked up along the road by Rawley, the man of all work at Cooper's beach bar. Having been in need of help himself in the past, he gives Devon and her daughter a place to stay while she gets back on her feet. She finds a job and a caring community in Thunder Point and happily settles in, though she is still nervous about being found. Spencer has moved to Thunder Point with his son and has taken the job as the new football coach at the high school. He's still adjusting to the loss of his wife, but is drawn to Devon. They develop a friendship that starts to grow into more but Spencer isn't sure he's ready for it.
I loved Devon's determination to take back her life. She felt pretty stupid for falling for the leader in the first place. It is hard at first to accept the help she is offered but she does it. She doesn't have a whole lot of self confidence at the beginning, but it builds as she does well at her new job and begins to make friends. It isn't long before the people of Thunder Point have made her one of them. At first she will only accept friendship from Spencer. She doesn't want to depend on anyone other than herself for awhile. But it isn't long before that friendship starts to deepen and change. Devon is still very cautious about risking her heart. When Spencer pulls a stupid move toward the end I really liked the way that she tells him off and then tries to move on. I also loved the way that she stood up to the two FBI agents with the bad attitudes when they came to question her about the commune. I loved the ending when she joined with others to rescue her daughter from the commune leader.
Spencer had moved to Thunder Point for several reasons. He needed to make a new start for himself and his son after his wife's death. He wanted his son to be closer to Cooper, his "bio-dad". He was hired as the new football coach at the high school. I really enjoyed seeing Spencer's adaptation to small town living in Thunder Point. There are several fun scenes where he deals with the town's obsession with the football team and their interest in his personal life. That personal life gets more interesting when he meets Devon. He overhears her story when she tells it to Rawley, but doesn't let on that he knows. Her beauty and her strength intrigue him and he finds himself pursuing a friendship with her as he tries to help her. He doesn't think he's ready for a new relationship, but that's what he gets when he just can't stay away from her. It also helps him realize that in spite of all his new friendships he is still rather lonely. I really liked the way that they were friends first. I got pretty frustrated with him when he panicked over their closeness and pulled away. I was glad to see that it didn't take long for him to see what an idiot he'd been and that he was there for her when she needed him.
Besides the romance between Devon and Spencer, I really enjoyed seeing their lives and those of the others in Thunder Point. Devon develops some good friendships that also help in her growing self confidence. I really enjoyed seeing Spencer work with his team and try to fend off the advances of some of the single women. I also liked seeing the friendship he has with Cooper continue to grow. One of my favorite things in this book is getting to know Rawley better. His kindness in rescuing Devon is just the beginning of what we get to learn about him. His motivation is the opportunity to "pay forward" the help he received as a Vietnam vet who had his own issues with homelessness, poverty and depression. Being around Devon and her daughter brings changes to his life that everyone who knows him notices. I especially loved the way he took the lead in the rescue of Devon's daughter from the commune leader.
We also get to see the wedding of Cooper and Sarah and find out the decision she made about her career that was left hanging at the end of the previous book. Mac and Gina are settling in to their marriage and blending their families, as Mac's Aunt Lou makes some decisions about what to do now that she doesn't have to run Mac's life. There's a little more about the developing relationship between Gina's daughter Ashley and her father and a surprising decision on his part. I'm really looking forward to his part in the next book.