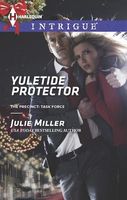 Series:
Precinct: Task Force
(Book 6)
As the lone surviving victim who can put her attacker away in prison, heiress Bailey Austin becomes the key to the D.A.'s case against a notorious criminal. As lead detective, Spencer Montgomery must prep her for trial. But he becomes her personal protector when she starts receiving terrifying "gifts" meant to scare her away from testifying.

Spencer is a cop on the fast track to making captain one day, if he can keep his emotions in check. But as the stalker's threats escalate, he can't deny that Bailey has thawed his icy heart. Her courage touches him in ways no other woman has, and reminds him that she's more important to him than any investigation.
Fantastic wrap-up to the Task Force miniseries. We met Bailey in an earlier series where she and Spencer clashed and again in this series as the victim who didn't end up dead. Now she is the only one who can identify the rapist and testify against him. There are a lot of people who aren't sure that she's up to it and fear that she will chicken out. She's determined to do it and makes sure that Spencer knows it. With the rapist's accomplice still on the loose Spencer's job is to make sure Bailey stays safe. When she starts receiving threats it's his job to stop them. There's an attraction between them that he tries to resist, fearing that it will distract him from protecting her. Can he protect her and his own heart?
I loved Bailey's courage. In spite of the terrible trauma she had been through she is determined that she will go through with her testimony and put the rapist away for good. Thanks to counseling and her own will she has become a stronger and more mature woman. She's no longer satisfied just being a member of her wealthy family and wants to make her own way in the world. She is frustrated by the way everyone is convinced that she won't go through with her testimony. She is with Spencer at the police station when she runs into the rapist and he and his lawyer try to intimidate her. He makes sure she knows what to do to protect herself and also lets her know to call him if she ever feels nervous or that something is wrong. When she has to take him up on that offer almost immediately she is surprised by her need for the comfort and security he provides. I loved the way that she accepts the caring he demonstrates and also tries to return the same to him. She feels the way he fights what is growing between them and senses that there is something behind it. The support that she offers him also helps her. The confidence that he has given her helps her fight back at the end.
Spencer has kept his emotions bottled up ever since the day he allowed his feelings for a witness blind him to what was happening with her. She ended up dead and he blames himself. The changes he sees in Bailey since the rape have made him more aware of her as a woman. He resists the things he feels for her because he is afraid of failing her. As the threats against her escalate he becomes more determined to protect her. I loved seeing how he can't stop himself from getting personally involved, to the point where he is even able to tell her about the woman who died. His fears are somewhat reduced by her support and understanding of those fears. I also liked the way that Spencer was so sensitive to Bailey's fears and able to help her through them. I really liked the way his partner, Nick (Tactical Advantage) sees the changes in Spencer and encourages him to pursue them. The ending was immensely satisfying as both Spencer and Bailey got exactly what they needed.
I loved the wrap-up of the mystery itself. The increasing tension as the threats escalated kept me riveted as I waited to see the identity of The Cleaner. The various pawns that she used were fairly obvious, but their methods were not always apparent at the time. I liked seeing various members of the task force as they made their appearances and we got a chance to catch up with them. The final showdown was suitably intense and I was glad to see that my suspicion of The Cleaner's identity was correct.