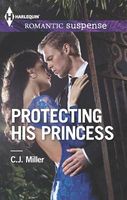 Series:
Truman Brothers
(Book 3)
In this kingdom, not even the royals are immune to danger

With a sexy FBI agent posing as her suitor, Princess Laila of Qamsar is home for the wedding of her brother the Emir. In truth, the beautiful royal and Harris Truman are on an undercover mission: to find the infamous terrorist her brother is suspected of aiding.

But once the festivities begin, Laila faces a bigger threat than Al-Adel. Her secret meetings with Harris pose a danger to her safety­ -- and her heart. To gain his love and live in freedom as his equal is her ardent desire. But will she betray her traditions for a man whose kisses are part of a charade?
Very good book. I liked the suspense of the story with Laila and Harris fighting their feelings as well as trying to investigate without getting caught. I liked Laila's determination to do whatever she had to in order to protect the people of her country. She may have led a sheltered life before going to college in America, but she's not as naive or clueless as she could be. When Harris explains the problem to her she is very willing to help him investigate the claims. She has been drawn to him during the times he has been to the coffeehouse where she works, so pretending that he is her boyfriend will not be a problem for her. In fact, it will be all too easy. Because of the cultural rules of her country being alone with him is impossible so they have to meet in secret. Those secret meetings bring her growing feelings more to the surface, even though she knows that a future between them is unlikely. I really enjoyed seeing her develop her own opinions of what she wants in her future as opposed to what is expected of her. I loved the way that she and Harris worked together after the bombing.
Harris is assigned to work with Laila in a joint venture with the CIA to find out the truth about her brother's involvement with a terrorist. He is attracted to Laila, but having been burned by falling for a woman during another operation he is fighting the feelings. It doesn't take long once they've reached Qamsar for him to realize that he can trust her completely. He also knows that once the investigation is over it is unlikely he will be allowed to see her again. I really liked seeing his protectiveness toward Laila. There were several situations where he had to fight his natural inclinations so that he wouldn't offend their customs. I also enjoyed seeing the way that he stood up for her against the opinions of some of the local men. He also discovered that being around her brought a balance to his life that he hadn't had before.
I really enjoyed the storyline also. Tracking down terrorists usually makes for good action, both physical and mental and this had both. I liked seeing the differences between Laila's two brothers and how those differences affected the action. There was plenty going on as the search for the bad guy went on. There was an interesting twist to the conclusion that I started to suspect near the end, but the details were surprising.