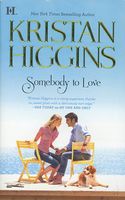 Series:
Gideon's Cove Maine
(Book 2)
After her father loses the family fortune in an insider-trading scheme, single mom Parker Welles is faced with some hard decisions. First order of business: go to Gideon's Cove, Maine, to sell the only thing she now owns -- a decrepit house in need of some serious flipping. When her father's wingman, James Cahill, asks to go with her, she's not thrilled...even if he is fairly gorgeous and knows his way around a toolbox.

Having to fend for herself financially for the first time in her life, Parker signs on as a florist's assistant and starts to find out who she really is. Maybe James isn't the glib lawyer she always thought he was. And maybe the house isn't the only thing that needs a little TLC....
Really fun book with plenty of humor and showing the importance of second chances. Parker is the single mother of an adorable 5 year old boy. She has a solid friendship with the boy's father and his wife. She's had a best selling series of children's picture books. Her relationship with her father isn't too great and she really doesn't like his personal attorney. Things get really bad when her father is arrested for insider trading and she finds out that he lost all their money, including her and her son's trust funds. All she has is a house in Maine that she inherited. She plans to go up, paint it and sell it to get the funds needed to start over. Only, the house is in worse condition than she thought, and James has followed her up determined to help. So while her son is with his father, Parker and James are working together on the house, and learning a little more about themselves and each other while they're at it.
I liked Parker. She is an excellent mother to her son. She may be wealthy but she's not really a snob about it (except to James). I liked the way that she donated the proceeds of her children's books. I also enjoyed her snarkiness about the sickly sweet angels in those books. By the time the series ended she really hated those angels and had some really interesting conversations with them throughout the book. Her excellent relationship with her father went down the tubes when she was ten, after she caught him in bed with her babysitter. She has an even worse relationship with James, her father's lawyer, who she calls Thing One. She sees him as a clone of her father. When dear old dad is arrested for insider trading she discovers they are flat broke, except for a house she inherited in Maine. She plans to sell it for the money to start over. Those plans hit a roadbump when she discovers the house is stuffed with junk and falling apart. I loved the descriptions of what she was seeing and feeling, and the scene with the mouse was hysterical. James's arrival and offer to help is met with grudging acceptance as she desperately needs him and resents it. As the days go on they reach a tentative truce and begin to get to know each other. Parker discovers that there is a lot more to James than she thought and that he's not such a bad guy after all. There's also a deepening attraction between them that she's reluctant to do anything about. Her son is the most important thing in her life and with all the changes in their lives she doesn't want to make things worse by introducing a man into it. Just as things are looking up for the two of them someone from James's past shows up and throws a wrench in the works, followed by a funny and heartbreaking scene in the local bar. I really enjoyed seeing the way that Parker was able to overcome her obstacles and come out stronger on the other side.
James was fantastic. He had gotten a job with Parker's father shortly after finishing law school. I loved his sense of loyalty and how he always did the best he could. He saw early on that Parker and her father didn't have a good relationship, but he didn't know why. He did know that there was something about her that he wanted to protect. Since he always got dragged along when her dad attended any family event, he saw a lot of Parker. It was pretty obvious from the beginning that he was in love with her. I loved the way that he was always doing things for her, trying to make things better. I loved the fact that he went up to Maine to help her on his own, even though he let her believe that her father had sent him. I thought he was incredibly patient with her, considering how badly she tended to treat him. James worries about being around her son. He has terribly guilty feelings about something that happened when he was a kid and believes that it means he can never trust himself to have a family. It also caused a rift in his family that has left him feeling pretty isolated except for his friendship with Parker's dad. Being in Maine with Parker has started to lessen those feelings and he starts to dream of a future with her. He also has some pretty funny conversations with himself about Ethan, her son's father. He is quite jealous of Ethan, who he refers to as The Paragon. He starts to feel really hopeful when a blast from his past drives Parker away. I loved the ending as he wins her back. The epilogue was sweet.
I loved the setting of the tiny town of Gideon's Cove and all the fun characters there. Maggie and Malone from an earlier book made several appearances. I really liked the old guys from the hardware store who were so helpful to Parker. I loved the dog Beauty. Seeing Parker fall in love with her after hearing her story just showed how much love Parker had to share. My favorite character was Parker's Aunt Lavinia. She was a crusty old broad who smokes too much, talks a lot about her booty calls, and has a heart of gold. She gives Parker a job working in her flower shop which turns out to be perfect for her. She has a greenhouse out back where she grows some of her own plants. The part where Parker sells one of Lavinia's "ferns" to a customer was a riot. I really liked the way that the entire town became such a special part of Parker's life.