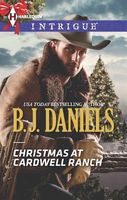 Series:
Cardwell Ranch
(Book 4)
AT CARDWELL RANCH, THE HOLIDAYS CAN BE BRUTAL…

It had been years since Tanner "Tag" Cardwell's boots touched Montana soil. This Christmas he was determined to change that. Until a run-in with local Lily McCabe revealed dark secrets from his past and deep trouble for his future.

Cowboys came and went in these parts. But Tag Cardwell caught Lily off guard in more ways than one when the two became entwined in a murder mystery. What was it about Tag? The dreamy eyes… The rugged physique… The protection she felt in his strong arms…

But before they could lose themselves in each other they had to trace a killer. Or risk finding a crime scene under the Christmas tree.
Good book, though the back cover blurb isn't entirely accurate. It isn't Tag who has the secrets but his dad. Tag hadn't been back to Montana since his parents divorced and his mom moved he and his siblings to Texas. Now he wants to reconnect with his father. Problem is, dad doesn't seem too happy that Tag has shown up right now. While Tag is at a local bar watching his dad and uncle perform with their band he has a brief run-in with a drunk waitress then is questioned about it by fellow waitress Lily. When he stumbles across that waitress's body the next day things start getting really interesting. He ends up with a mysterious computer file that might be in code and Lily attempts to decode it. Pretty soon they're in danger and have to find out what's going on. And how are Tag's father and the sheriff involved, and on what side?
I liked Tag. He wants a chance to reconnect with his father and has come to Montana to do it. He's a bit disturbed by his father's secretiveness, especially when Tag notices a link between him and the murdered waitress. There are some other things that he notices about his father and also about the sheriff that make him wonder which side of the law they are on. Tag is also intrigued by Lily, especially once they get together over the contents of the computer file. I liked the way that he isn't bothered by or intimidated by her intelligence. There are times when he feels he's in over his head, but it doesn't stop him from being involved anyway. The more they learn the more he worries about Lily's safety. I loved his resourcefulness at the end as he puts the pieces together. I also liked his growing feelings for Lily and how those feelings create a need to protect her, even when he isn't sure what her feelings are for him.
I also liked Lily, though I wanted to smack her a couple times for being so blind. Lily is a math professor at a local college. Every year at Christmas she comes to help her brother Ace at the bar he owns. This year she's especially glad to have gotten away. Six months earlier she'd been left at the altar by her fiance and she's still feeling down about that. Tag is nothing like her ex, but he appeals to her in a whole different way. When they join forces to figure out what is going on she feels incredibly safe with him. When her ex suddenly shows up wanting to make amends she doesn't know what to do. They still have so much in common that she can see forgiving him and taking him back, but then again her feelings for Tag are so much more intense. She does feel okay enough with him to let him help her decode the computer file. Shortly after that she is kidnapped and held by someone who wants that file. I liked the way that she stayed calm and used her brain to try to find a way out of her predicament. Unfortunately she then ended up in trouble again, trouble that she should have seen coming. It was nice to see her come out of that one stronger than she knew she could be. Loved the ending with her and her brother included in the Cardwell ranch Christmas celebration and how much fun they had.
A secondary but related storyline involved Hud, Dana and the imposter from Cardwell Ranch Trespasser. Hud has been battling feelings of inadequacy after his family was nearly murdered in that book. Now there are more murders and he's not having much success in solving them and he's thinking about giving up his job. We also see how Camilla, the perp from that book, is plotting revenge from inside prison. It's interesting to see how the two storylines intertwine.