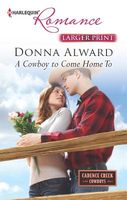 Series:
Cadence Creek Cowboys
(Book 4)
"Friendship?"
Melissa Stone has done a fine job of avoiding her "former" best friend Cooper Ford. She was devastated when she discovered her husband was cheating on her, and felt doubly betrayed that Cooper had known all along....
"Forgiveness..."
But she can't ignore him forever--especially now that they're working together on a charity project And as she and Cooper get closer again, she confides in him her plans to start a family--alone.
"Fatherhood "
Cooper wants to be there for her this time--but would he really consider being "the father of her baby...?"
Good book. Melissa has worked hard to move past her divorce and the betrayal of her ex-husband. Harder than that has been accepting the loss of her best friend Cooper. They had been friends for a long time and when she found out that he knew about Scott's cheating she was devastated. She has managed to avoid him for three years, but now they're working together on a project and he's had enough.
I liked both Melissa and Cooper. Mel had been blindsided by her husband's actions and is now finding it very hard to trust any men. Part of her devastation at the end of her marriage was the loss of her dream of having children, so she decided to have a baby on her own. She was also hurt by what she saw as a betrayal by her friend Cooper, who had known of Scott's actions but didn't tell her. She had had a crush on him when she was in school, but when he showed no signs of returning the feelings she had moved on. She doesn't know if she can forgive him for his actions but she is willing to try. She doesn't expect to find that her attraction to him has returned and is growing stronger. She is amazed when he tells her that he has loved her for years but wouldn't say anything while she was married. His declaration has scared her because she doesn't trust that anyone will stick with her for any length of time. She has to learn that she's worth staying around for.
Cooper had been friends with Mel for a long time. By the time he figured out that he wanted more than friendship she was already with Scott. Because he was friends with both of them, finding out about Scott's affair caused him major heartache. He wanted to tell Mel, but Scott threatened to tell Mel about Cooper's feelings and make it look like he was trying to break them up. Staying away from her after the divorce was incredibly hard for him. When he finally talked her into giving their friendship another chance he was also hoping to show her his love also. He also had problems with the intensity of his feelings, knowing that losing her again would destroy him. He also wasn't sure that any developing feelings from her were for him or just because she wanted a baby.