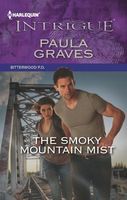 Series:
Bitterwood P.D.
(Book 2)
"Who wants Rachel Davenport dead?"
Seth Hammond won't stop until he gets answers. Tapped by the FBI to find out who's targeting the heiress gives the former Tennessee bad boy the chance to atone for his past sins. But it's his future he's worried about when Seth finds himself falling for Rachel...who's in graver danger than anyone in their small mountain town of Bitterwood realizes.
Ever since she was named CEO of her family business, strange things have been happening--terrifying incidents that could be tied to Rachel's violence-shadowed past. Seth's the only one who doesn't think she's losing her mind. Her intense, rough-around-the-edges protector has blindsided her with his passion. But Rachel also believes in Seth--believes he's a good man looking for redemption...and possibly love?
Very good book with plenty of action. Seth has been asked by the FBI to keep an eye on Rachel and see if he can figure out who is targeting her. That's no hardship for him as he's been doing that anyway. He had noticed her connection to the murders in the first book of the series (
Murder in the Smokies
) and wanted to find out who was behind it.
I really liked Seth. He has been trying to overcome his bad reputation and having a rough go of it. He made no excuses for what he had done in the past, he knew he had been wrong and regrets it. He has tried to make amends where he can. But his desire to protect Rachel goes deeper than just a desire to do what's right or his job for the FBI, he feels a connection to her that he's never felt for anyone before. He also has a great ability to understand her fears and help her deal with them. I really liked the way that he used his past and the abilities he had as a con man to be able to think outside the box when it came to finding out who is behind the attacks. As much as he cared for Rachel he felt that he was nowhere near good enough for her, but he was also unable to walk away from her. I felt really bad for Seth when everyone involved in the investigation thought that he was up to his old tricks, even his sister.
Rachel had been a librarian until her dying father asked her to come home and take over the family trucking business. She was reluctant at first but soon found that she was enjoying the work. When four women she knew were murdered it became obvious that someone was after her. After her father's death things began to happen to her that made her start to doubt her sanity. The only person who seems to believe her is Seth, a worker at the trucking company who she barely knows. In spite of the things that he has done in the past she feels safe with Seth and knows that she can trust him. I really liked the way that she didn't let his past affect the way that she saw the man that he is now.
Both Seth and Rachel had things in their pasts that had made them the people they are now. They also had fears that had to be overcome and were fortunate enough to have the other one to help. In this book we found out who had targeted Rachel, but the question of why is still unresolved. I'm looking forward to the next book and the resolution of the mystery.