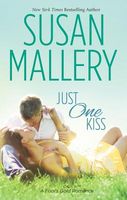 Series:
Fool's Gold
(Book 12)
"He won't hesitate to put his life on the line...but will he ever risk his heart?"
Falling for Justice Garrett was a high point in Patience McGraw's otherwise awkward adolescence. Even after he disappeared, Patience never forgot the boy who captured her heart. Now he's back in Fool's Gold, California, and her passion for him is as strong as ever. But how can she trust that he won't abandon her again--and her daughter, too?
When bodyguard Justice Garrett was a young man, witness protection brought him to this idyllic town and he never forgot its warmth, or the sweet beauty of his childhood friend. He's returned to open a defense academy, and the Patience he once knew is all grown up. He can't resist her smile, or her curves. But Justice's past doesn't make him husband, or father, material.
Patience and Justice think they'll succumb to just one kiss... Then one more... Okay, just one night together. But they might learn that falling in love is beyond anyone's control.
I love small town romances and the Fool's Gold books are among the best. This is the first of this summer's trilogy and focuses on Patience and Justice. They had been friends for a year back in high school. Patience had a crush on him and was about to tell him her feelings when he disappeared without a trace, leaving her heartbroken. Now he's back and their feelings are becoming even stronger. But can they overcome their pasts and make a future together?
I loved Patience. As a teenager she had been a very good friend to Justice, who always seemed to be a little bit withdrawn from everything around him. When he disappeared she worried about him and never forgot him. She married young when she got pregnant, then her husband left them. She has lived in Fool's Gold all her life and can't imagine living anywhere else. She cuts hair for a living but dreams of opening her own coffee shop. When Justice comes back into her life they resume their friendship as though they'd never been apart. But there is also an attraction between them that she is somewhat wary of. After being abandoned both by her father and her husband, she worries that Justice could disappear again, destroying her heart completely. I loved seeing their friendship continue and grow into love. Patience had a way of seeing the vulnerable man under the loner exterior and providing the caring that he needed but wouldn't admit. I loved the way that she refused to accept his statement that he wasn't a good man.
Justice had never forgotten Patience, who had been the one bright spot in his time in the Witness Protection Program. Now that he is back in Fool's Gold he finds that his connection to her is even stronger. He still tries to maintain an emotional distance from those around him but it just doesn't work. Not only do Patience and her family make him part of their lives, but the people of Fool's Gold also won't allow it. There's a great scene where Denise Hendrix welcomes him back and puts a totally panicked look on his face. The more time that he spends with Patience the more he wants her in his life permanently. But he is fighting the demons of his past and is not convinced that he won't turn into a man like his father, even though everyone else can see just how wonderful he is. When his past catches up to him and puts his future in danger it only reinforces his feelings. I loved it when he finally realized what an idiot he had been.
Besides the story of Justice and Patience and their romance, I also enjoyed the story of Patience's mom Ava. She also has her own romance that happens, overcoming her health issues and the identity of her sweetheart. I loved her quiet strength and the support that she gives Patience in everything.
One of the greatest "characters" in the book is the town of Fool's Gold. Previous heroes and heroines make appearances in perfectly logical ways, not just thrown into the story willy nilly. I loved Mayor Marsha's freakily perfect timed appearances and interferences. The Fool's Gold community participation in things like the work party for Patience's coffee house was ideal small town life. I also love their welcoming attitude toward new people such as Felicia, who is endearing and scary at the same time. I also love the friendships between Patience and the other women and how they support each other through good and bad. I'm really looking forward to the next book.