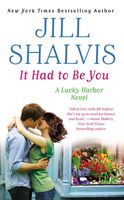 Series:
Lucky Harbor
(Book 7)
Ali Winters is "not" having a good day. Her boyfriend left her, everyone in town thinks she's a thief, and now she's about to be kicked out of her home. Her only shot at keeping a roof over her head and clearing her name is to beg for help from a police detective who's as sexy as he is stern....

After a high-profile case goes wrong, Luke Hanover returns to his hometown for some peace and quiet. Instead he finds a bombshell brunette in a heap of trouble. As he helps Ali put her world back together, the pieces of Luke's own life finally seem to fall into place. Is this the start of a sizzling fling? Or are Luke and Ali on the brink of something big in a little town called Lucky Harbor?
I love my trips to Lucky Harbor and this was no exception. I loved Ali. She's had a difficult life. Her mom raised her and her sister alone. Mom and sis are pretty flaky, so Ali has been the practical one all her life. She came to Lucky Harbor for a fresh start. She's been working at the local florist shop, where she has lots of ideas to improve business, but her boss just isn't interested. She teaches ceramics to the local senior citizens. She's been dating a local guy and is living with him. She finds out he's cheating on her, then he's moving out and hasn't renewed the lease on the house. To top it all off, she's suspected in the theft of a lot of money. Even with all of this, she manages to keep a smile on her face. Luke's appearance creates another set of problems. There is an immediate attraction between the two, but Ali doesn't want an involvement. She's had lousy luck with men and just doesn't want to risk herself again. But this attraction won't be denied, as much as they both try to fight it. Ali is a woman with a big heart. I loved the way that she saw beneath the brooding exterior and was able to relieve some of his misery. Even though he kept reminding her what a bad bet he was, it didn't do much to bring her down.
"I care, but I'm not going to let what I feel for you- no matter how it turns out – define my happiness. No one but me can do that." I loved that attitude.
Luke has come back to Lucky Harbor to get away for awhile. He's a police detective in San Francisco and just had a case go really bad on him. He's trying to escape the guilty feelings and the media attention. He just wants to be left alone. That turns out to be impossible when he finds Ali living in his house. Luke is the kind of guy who just can't help looking out for people. He won't kick Ali out, and when he finds out about the theft, he's determined to help Ali prove her innocence. He fights his attraction to her really hard. He doesn't want to take responsibility for someone else's happiness, and lets her know that he's leaving and doesn't do commitments. I loved the way that as much as he says he wants to be alone, he can't help getting involved, not just with Ali but with others in the town. He comes across as a brooding, grumpy man, but underneath there is a kindness that just can't stay hidden. I loved the way that Ali brings that out in him.
Her optimistic personality sent some sunshine into the dark corners of his soul.
The role of the Lucky Harbor seniors in the book is lots of fun. Edward does just the right amount of interfering to get Luke to realize his feelings. Lucille and her facebook page play a smaller role than usual, but they are still there. I also enjoyed seeing more of Jack and am really looking forward to his book.