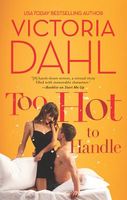 Series:
Jackson Hole
(Book 4)
This good girl's going bad….

Merry Kade has always been the good girl. The best friend. The one who patiently waits for the guy to notice her. Well, no more. Merry has just scored her dream job, and it's time for her life to change. As the new curator of a museum in Wyoming, she'll supervise a lot of restoration work. Luckily she's found the perfect contractor for the job.

Shane Harcourt can't believe that someone wants to turn a beat-up ghost town into a museum attraction. After all, the last thing he needs is the site of his dream ranch turning into a tourist trap. He'll work on the project, if only to hasten its failure…until the beautiful, quirky woman in charge starts to change his mind.

For the first time ever, Merry has a gorgeous stud hot on her heels. But can she trust this strong, silent man, even if he is a force of nature in bed? When Shane's ulterior motives come out, he'll need to prove to Merry that a love like theirs may be too hot to handle, but it's impossible to resist.
Fun book. Merry has come to Jackson Hole where she has found a job at a new ghost town museum. The ghost town is in need of restoration work so she is looking for a carpenter to do the job. She finds Shane Harcourt who came highly recommended and hires him to do the work. What she doesn't know is that Shane actually inherited all the land around it, but his grandfather left the ghost town and all the money to someone else. He is furious and suing to get the money back, which will put her out of a job.
I liked Merry. She hasn't had an easy life, growing up poor and fatherless, but she works at keeping a positive attitude. She is really excited about the museum job and falls in love with the ghost town. She has a great time researching the town and the stories of the people who lived there. She doesn't know about the lawsuit at first and is frustrated by the lack of progress she is allowed to make. She goes ahead and hires Shane to start the repair work. Besides being impressed with his work, she is really attracted to him. But she has a dismal track record with men, who seem to treat her more as a friend or little sister than a love interest. When her attraction is reciprocated she is thrilled - until she finds out who Shane really is. I loved the time they spent together and how his attention is so good for her self confidence. I can see the way she starts to change and become happier with who she is. When the truth comes out she is devastated and her hopes take a nose dive. I loved seeing the way things worked out for her.
I liked Shane in spite of his deception. He, too, had had a rough childhood. The men in his family have a tendency of shirking their responsibilities by running away. He compensates by not allowing himself to have a relationship with anyone. He loved inheriting the land, but was furious about the way his grandfather punished him by withholding the money. When he found out about Merry, he started out by using her to find out what was going on with the ghost town. But he soon found himself fascinated by Merry and her enthusiasm for the ghost town, and being sucked into her vision. He also discovered that he was having feelings for her that he had not felt for anyone else. This worried him because of what he feels is his family curse. When Merry found out his connection to the ghost town he was stunned by her fury and realized that he had to do some real soul searching about his motivations and intentions. I loved what he finally did and seeing him and Merry work out their differences.