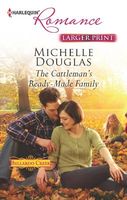 Series: Bellaroo Creek (Book 1)
"A fresh start...?"
Tess Laing has suffered more heartbreak than most. So moving to Bellaroo Creek with her little orphaned niece and nephew is the start of a new life. Meeting tall, dark and deliciously handsome Cameron Manning starts an unexpected flutter in her heart...
"A new family "
Cam is intrigued by Tess, and quickly becomes entangled in their lives when little Ty gets a clear case of hero-worship They're the family he always dreamed of having himself--until the day a betrayal wiped his hopes in an instant. Perhaps now is the time to confront the past and discover a ready-made family is the key to this tortured cattleman finding a happy future...
Good book. Tess has come to Bellaroo Creek for a new start for herself and her niece and nephew. She is determined to concentrate on their needs and do the best she can to take her sister's place. As a musician and city dweller she is pretty clueless about what life in the country is like but she is willing to learn. Her landlord and neighbor Cam is on hand to give her the help she needs. She is attracted to the sexy cattleman but has ruled out any relationships until she feels she has a handle on caring for the kids. She is also dealing with a lot of guilt over the death of her sister. I really loved Tess's enthusiasm for the new life they have started. I loved the way she had the strength of will to leave everything she was familiar with to give the kids something better than they had had before. I also liked the way that she tried to open Cam's eyes to the possibility of reconciling with his family. She fell hard for him but also didn't want to risk herself and the kids on someone who was planning to leave.
Cam had been dumped by his fiancee for his brother and the betrayal hit him hard. He was trying very hard not to be like his father and let his bitterness turn him into a grumpy recluse. He was planning to put his land under the care of a manager and head off to do charity work in Africa. Meeting Tess and the kids changes his attitude somewhat. He finds himself wanting to help them and enjoys spending the time with them. His attraction to Tess is completely unexpected as he thought all feelings like that had been destroyed along with his engagement. I loved seeing him interact with the kids and how they lightened his moods. I really liked the way that Tess was able to help him deal with his past and see the promise of a happy future.