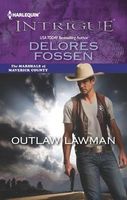 Series:
Marshals of Maverick County
(Book 3)
"In Maverick County, he was the law"
When Caitlyn Barnes unexpectedly shows up at his ranch, Texas marshal Harlan McKinney has no idea his ex-lover is trailing a heaping pile of danger. The death threats against the investigative journalist are just the tip of the iceberg. Soon Caitlyn and Harlan are on the run out of Maverick County.
Enmeshed in a web of escalating violence, they know their only hope of surviving is to trust each other. But Harlan doesn't know if he can trust himself--and the feelings Caitlyn is awakening. With the noose tightening, tracked by a killer who's always one step ahead, Harlan is blindsided by an explosive secret from the past--and a passion that's even more dangerous....
Very good book with lots of action going on. Caitlyn and Harlan had known each other as teenagers at the children's home. Now she's running scared. She has been receiving death threats that lead her back to Harlan. When she shows up at his house looking for answers they are both attacked and kidnapped and barely escaped with their lives. They find out they are suspects in a murder and go on the run as they look for answers. As they are cleared of that suspicion other attacks happen that appear to lead back to the unsolved murder of the director of the children's home, but also could have a connection to a stalker in Caitlyn's past. Besides fighting for her life, Caitlyn is also fighting her attraction to Harlan. She has never forgotten him and the intensity of these days is just ramping up her feelings.
Meanwhile Harlan was surprised at Caitlyn's reappearance in his life. He hadn't heard anything from her except for one less than flattering news story she wrote on the marshal's service since they were teens. As they try to stay ahead of the killer he finds himself frequently distracted by the chemistry between the two of them. I really liked his protectiveness toward Caitlyn even when he wasn't sure he could trust her. As the attacks escalate he is more determined to keep her safe and see where their attraction takes them.
The action and intrigue were very good. There was plenty of action to keep the characters on their toes. The mystery of who was behind it all was pretty convoluted. Sometimes I was sure who it was and other times I began to doubt. The way it ended up was pretty intense. I'm definitely looking forward to the rest of the series.