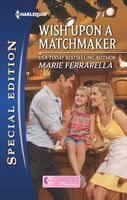 Series:
Matchmaking Mamas
(Book 11)
THREE-FOOT MATCHMAKER

Ginny Scarborough has picked out her new mommy-Danni Everett, the local celebrity chef who hired Ginny's widowed father, Stone, to renovate her house. And Danni couldn't deny the immediate zing she felt for the handsome, green-eyed contractor...even if they were brought together by a precocious four-year-old. So why was Stone holding back when everything between them felt so right?

Stone's heart had been, well, stone-cold for far too long...that is until he met the beautiful and bubbly chef. Still, Danni was part of a world where Stone and his little girl didn't belong-better to move on than risk the pain of losing love again. But Ginny wouldn't take no for an answer, especially after even she could feel the warmth Danni brought to her dad.

With two stubborn adults to contend with, could little Cupid still make her dreams of a family come true?
Ginny is a little girl on a mission. She wants a new mommy. When she finds out from her friend Greg about a lady that finds them she finds her way to Maizie. As a woman who has a knack for setting people up, she jumps right in. Stone has been a widower for several years. He's very cautious about getting involved with anyone because he was so devastated when his wife died. His life revolves around his daughter and his job. Danni had moved to California when she was offered a cooking show. She purchased a house that needs a lot of work and is now able to get that work done. Maizie gives her Stone's number and soon he is hired to do the job. One day he's going to have to cancel work because he has no one to watch Ginny, but Danni tells him to bring her along. This starts a great relationship between Danni and Ginny.
I loved Danni. She is such a sweet, down to earth person in spite of her celebrity status. She's a little cautious around men because of a bad relationship with one who was out to get what he could from her. She is attracted to Stone from the beginning, but cautious with him. That caution goes out the window around Ginny, who Danni adores. I loved the way that Danni knows how to talk to Ginny and doesn't ignore her. I loved the scene at the studio where it shows the way that Danni isn't one of those snotty celebrities but one who thinks about other people. I liked the way they got to know each other over the time that Stone was working on Danni's house. Danni worried a bit that it was too fast which led to some misunderstandings at the end. I did like the way she stood up for herself when she saw Stone after he was done with the house.
Stone was a terrific father. I loved the way that Ginny was the center of his life and how he wanted to do what was best for her. After his wife's death it took a long time for him to even think about dating. The woman he's seeing at the beginning of the book is a real snot. She looks down on him because of what he does, thinks she should be more important than his work or Ginny, and has no interest in being around Ginny. When Stone meets Danni he is attracted to her but intimidated a bit by her celebrity status. Some of that intimidation goes away when he sees the way she interacts with Ginny. I loved the way that he is totally knocked off balance by the immediate connection between the two. The more time they spend together the more that Danni gets under his guard. Sometimes he forgets about who she is and starts thinking about a future, but then gets reminded by something and loses hope. When he finishes with the house he figures she'll be done with him since he still doesn't believe that she'd be okay with their differences in the long term, so he ends things first. I loved the way that little Ginny and her aunt save the day.