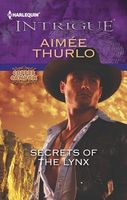 Series:
Copper Canyon
(Book 3)
SHE FULFILLED A PROPHECY...
For P.I. Paul Grayhorse, there were no secrets-thanks to his special Navajo gift. He knew why U.S. Deputy Marshal Kendra Armstrong found him in the canyons of New Mexico. Reopening the case that ended his marshal career and killed his partner did more than haunt Paul; it put him in the crosshairs.

NOW HE FACED A CHALLENGE...
Using Paul to flush out her fugitive was risky, but teaming with him was downright dangerous. In his arms, Kendra felt like a woman, with a woman's desires. But with his powers, could she hide her biggest secret-that she'd fallen for him? And that for the first time in her career, she was afraid...afraid to live without him if she couldn't get her man?
Very good book. Paul left the marshal's service after his injury and the attack that left his partner dead. The unsolved murder haunts him and he would like nothing better than to catch the man who did it. When Kendra comes to him for his help in catching the suspect he is only too glad to help. It doesn't hurt that she is a beautiful woman that he is attracted to. Kendra finds Paul very sexy but she is focused on her job. She is willing to take Paul on as a partner but she doesn't want anything else distracting her. But the more time she spends with him the more she wants to indulge the woman behind the badge.
I loved Paul. He had a terrific ability to be able to tell when people are lying or evading the truth which came in handy as a marshal and as a PI. He was very glad to have a chance to work with Kendra to find the person who killed his partner. He worked very well with her and I really liked the way he had no trouble with her being the boss. He was also very attracted to her and would have liked to pursue that attraction but both of them knew that the job had to come first. He also knew that she was the type that was looking for a permanent relationship and he avoids that kind feeling that he is a bad bet. But the more time he spent with her the more he discovered that she added a warmth to his life that he had never felt before and the more he thought about a future he had never considered possible. He just needed to be able to put the past behind him. I also enjoyed the closeness Paul had with his brothers and the way that they always had each other's backs.
Kendra was a strong and independent woman. She knew that Paul was the key to finding her quarry and was willing to work with him to make it happen. Her attraction to him was an unwelcome distraction but she did her best to ignore it. I loved the way that she made sure that he knew that she was in charge, but also that she saw the sense in having him take the lead when it was more practical. She found the man himself fascinating and enjoyed learning about his heritage. The more she learned about him and spent time with him the more she came to care about him. She was prepared to say goodbye to him when the case was solved and knew that there would never be another for her.
The mystery itself was very well done and kept things moving throughout the book. It became obvious that there was a leak inside the marshal's office that enabled the bad guy to be one step ahead of Kendra and Paul at all times. I loved the way that they worked together with Paul's brothers to finally bring the bad guys down. The leak wasn't really a surprise but the lead up was very good and really kept the story moving. The epilogue was fantastic and really put a nice cap on their story.