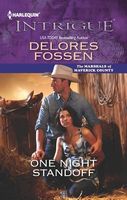 Series:
Marshals of Maverick County
(Book 2)
"There was no way she could hide the bump..."
Lenora Whitaker never thought spending one night with U.S. marshal Clayton Caldwell would put them in the crosshairs of a killer. Connected to a protective custody case gone awry, they are both attacked, leaving Clayton with a damaging case of amnesia and forcing Lenora to go on the run.
After taking a bullet to save her life, Clayton is unable to remember Lenora or that he's the father of her baby. But the moment he tracks her down, it's clear the attraction is still there. Hiding out together on his Texas ranch, Clayton admires the way Lenora will do anything to protect her unborn baby. Connecting with the pregnant beauty also triggers the first hints of his past. A past that could mend their broken lives--or unearth secrets he'd be better off forgetting.
Very good, action packed book. When a protective custody case went bad, Lenora and Clayton spent a night together that got intense really fast. Two months later, as she was telling Clayton that she was pregnant, someone shot at them hitting Clayton in the head. Now he's suffering from some holes in his memory including not remembering Lenora. When he tracks her down to find out what they had been talking about the day he got shot someone attacked them again. They take refuge at his family ranch where they and Clayton's brothers try to discover who is behind the attacks.
Lenora is a strong, determined woman with some secrets in her past that could get her killed. Most important to her right now is protecting her baby which means sticking with Clayton and finding out why they are being targeted. Their attraction is still strong and now that he knows about the baby he wants a bigger part of Lenora's life. But she's also afraid that once he knows her secrets he won't want any part of her. I liked the way that she was independent and able to stand on her own but also saw the sense of staying with Clayton to protect the baby. She also won't stand for being put in the background of the investigation when she feels she has an important stake in it. Clayton's proposal is not unexpected but she doesn't want to marry without love, especially since she knows she loves him.
Clayton is another one of the six brothers who is a marshal. He's good at what he does which is why the death of his witness hit him so hard. His attraction to the other witness, Lenora, overcame his good sense and now he's found out he's going to be a father. This is not something that was in his life plan but he finds he doesn't mind. Just as that news is settling in they are attacked and he goes down with a shot to the head. Three months later he finally is able to find Lenora and find out what they had been talking about. He has large gaps in his memory and she is the biggest one. His attraction to her is still strong and as they evade the people trying to kill them it only gets stronger. I liked the way that Clayton sensed her importance to him even before his memory started to return. He was not happy about the secrets that had been kept from him but he understood and didn't hold them against her. I loved the way that his prospective fatherhood was growing on him rapidly. I also love how Mr Cool and Calm Marshal turns into panicked and worried man at the end as he realizes just how much Lenora means to him.