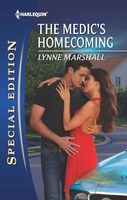 Series:
Whispering Oaks
(Book 2)
"The Girl Next Door...All Grown Up "
Lucas Grady never planned to return to Whispering Oaks. But when family duty called, the prodigal son arrived like the good soldier he'd been for years. And with him came the unfulfilled expectations of the past--expectations his neighbor, Jocelyn Howard, knew all too well.
Jocelyn had been in love with the rebel next door since she was a little girl. But she couldn't shake those old insecurities that she'd never be good enough, for Lucas or for anyone else. Still, the newly discharged army medic had scars that could never be truly healed--or so he thought. Maybe together, they could mend their wounds...and make each other whole again....
Very good book. Lucas came back to Whispering Oaks to help take care of his parents as they recover from an accident. While he's there he needs to decide what he wants to do with the rest of his life. He just spent the last eight years as an army medic. He doesn't know what he wants to pursue as a career. He is also suffering from the effects of PTSD which causes him to keep a distance between himself and others. One person he can't seem to stay away from is Josslyn. She's all grown up from his high school friend and his attraction to her is strong. She is also someone he can talk to and who he likes being around. His feelings for her are growing and changing but he feels that he has nothing to offer her until he can get his life in order. I really liked the way that Lucas was there for Josslyn and gave her the boost in confidence that she needed to take on the coaching job. I also really liked the way that his confusion about his future options was so realistic. He had several things to consider and his worries were shown in a logical manner. I liked the way he was able to talk to Josslyn about his PTSD but he also didn't take it far enough and nearly lost her because of it.
Josslyn had lived next door to Lucas all of her life. She had loved him for almost that long. She was very happy to have her friend back in town. Josslyn started out with renewing their friendship and was able to talk to him the way she used to. She was able to share what happened with her brief engagement and show how it had affected her confidence in herself. She was also very nervous about filling in for Lucas's dad as the track coach. The way that Lucas spent time with her backing her up gave her a big boost. She was also happy to find that her attraction to him finally was being returned. It wasn't long before she admitted that her love for him had only gotten stronger. I loved the way that she made her point to him at the end.