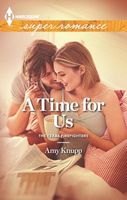 Series:
Texas Firefighters
(Book 7)
Time to leave the past behind

Now that she's in San Amaro, Texas, Dr. Rachel Culver has very little room for socializing. Working double shifts in the E.R. is jump-starting the medical career she's worked so hard for. She'll worry about a social life later. Still, when gorgeous Cale Jackson is constantly around, concentrating on work-and keeping old feelings at bay-is difficult.

How can Rachel not notice him? Especially when he's being so nice, so irresistible. Cale doesn't seem to understand she has good reasons to avoid him-reasons that only got bigger when she lost her twin sister. Worse, the way he treats her resurrects her long-denied hope their time together has finally arrived!
This was an incredibly emotional book. Rachel is back on San Amaro now that she finally has her medical degree. She is working crazy amounts of time which is enabling her to get her career going at an accelerated rate. It also allows her to avoid dealing with her grief over the death of her twin sister. The only person who really seems to understand is Cale, the man that Noelle was going to marry. He appears to have made it his mission to be there for her, to push her into dealing with that grief. Unfortunately, Rachel isn't just dealing with grief, she is also dealing with guilt. The night that Noelle died she and Rachel had fought over the fact that Rachel also had feelings for him and now she blames herself. The time that they spend together only increases those feelings, good and bad. I really liked Rachel. I ached for her unhappiness and the way she couldn't give in to her grief. Also for the way that she always felt like she came up short when compared to Noelle who was pretty much her opposite. Her love for Cale is strong but her feelings of guilt just won't allow her to move on with him.
Cale was devastated by Noelle's death, to the point where he still can't live in the condo he bought for them. He feels that his love for Noelle will last forever and that there will never be another. When he first sees Rachel again he is first struck by their resemblance but is quickly reminded of how different they are. He senses her grief and sees the way that she isn't dealing with it. He also sees how alone she is and decides that he will be there for her. He doesn't expect to find her constantly on his mind or to be feeling things he never thought he'd feel again. I really loved the way that he was sensitive to Rachel's feelings but that he also wanted to get her through the hard parts so she could start to live again. He was stunned when she told him about the reason for the fight with Noelle but it also forced him to face his own feelings.
I liked the way that the two of them were able to find strength with each other to deal with their grief. There are times when it becomes too much and they lash out, but they always find their way back. I really liked the way that their grief was shown and the various ways they dealt with it, both with each other and with others.