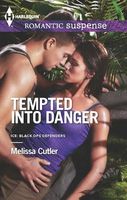 Series:
ICE: Black Ops Defenders
(Book 1)
""Keep the asset safe or die trying.""
When a simple mission to deliver the beautiful and brilliant Vanessa Crosby to a safe house goes horribly wrong, ICE agent Diego Santero's life gets complicated. Keeping the anti-crime analyst safe from the notorious mercenaries after her program will put everything he's worked for at risk.
Relentlessly hunted and not knowing whom to trust, Diego takes Vanessa on the run, deep into the heart of the deadly Panamanian rain forest. Vanessa reminds herself that she's just another asset to the ruggedly handsome black ops agent...until their intense situation leads to a release of passion neither expected. But even if they make it out alive, how can they ever have a future together?
Excellent book. It starts out with Diego and his crew being tasked to get Vanessa to a safe house. He's not happy about being a "chauffeur" but ends up glad he was. When they are attacked it is up to him to keep her safe. Vanessa had no idea that the program she wrote would put her in such danger. Now she's on the run with Diego and has to trust him. This is hard for her to do at first. Vanessa's mom died when she was little and her busy father rarely paid any attention to her. She had a hard time believing that anyone would be there for her. She was also intensely attracted to Diego, but knew that because of his job there was no future for them. I really liked the way that her growing trust of Diego also helped her grow in other ways. She went from being pretty insulated and focused on her work for the bank to someone who could see that her brains and abilities could be used for a much greater good. She also went from a woman who couldn't see herself doing anything dangerous to one who was willing to put herself out there to save someone she cared about. I loved some of the things that she said to him that would surprise him or confuse him. I especially loved the discussion they had on what to do when a woman cried - had to laugh at him on that one.
Diego has lived for his job ever since his brother died on 9/11. He prides himself on never having failed a mission. When his mission with Vanessa goes wrong all he can think of is keeping her safe. As things continually go wrong he worries that there is a leak in the department that makes his job impossible. He feels a growing attraction for Vanessa but his work and relationships just don't mix. I loved his fascination with the way her mind works. I thought it was really cute the way that listening to her solve math problems turns him on. He sometimes gets frustrated with her when her insecurities make her doubt that he will stay with her, but he works really hard to show her that he can be trusted. Diego went through his own growth as he learned that love could make him stronger. I also loved his close relationship with his team and the way they could almost read each other's minds. I loved their reactions as Diego's feelings for Vanessa become apparent.
The action itself is a wild ride of explosions, gun fights, car chases, and betrayals on the way to a happy ending. I loved seeing the part that Aaron Montgomery (
Seduction Under Fire
) played in this book, especially at the end. I can't wait for the next book - I really hope it is about Ryan.