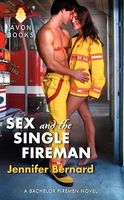 Series:
Bachelor Firemen
(Book 3)
There's a hardnosed new training officer in town, and that's bad news for the Bachelor Firemen of San Gabriel . . .

But great news for firefighter Sabina Jones . . . maybe.

The toughest captain on the East Coast, single father Rick Roman has come thousands of miles to San Gabriel to put an end to the "Bachelor Firemen" media hype. But when a stunning woman he nearly hooked up with in Reno turns out to be a firefighter from his new station, Roman realizes it's going to be tough keeping the tabloids at bay.

But there's even more Sabina isn't telling him. Before dedicating herself to battling blazes, Sabina led a very different life, one that made her famous. The last thing she wants is to have her secret exposed. The papers, bloggers, and TV gossips will have a field day with that -- especially when they sense the obvious sexual heat between Sabina and Chief Roman, who's torn between firing her . . . and falling in love with her!
Very good book. Rick is a former New York fireman who lost his firefighter wife on 9/11 and is raising his teenage son by himself. He has been hired by the San Gabriel fire department as training officer to get Station 1 back into shape and stop the media nonsense about the Bachelor Firemen curse. He nearly hooks up with a woman in Reno and is stunned to discover on his arrival that she is one of his firefighters. I liked Rick a lot. He is pretty uptight at the beginning with a lot he has to cope with. He's moved from New York to California, so he and his son are dealing with some culture shock. He has to try to stop the fire station's Bachelor Firemen reputation from getting worse. And he has to fight his inappropriate attraction to Sabina. I liked the way that he puts his son's wishes to play baseball ahead of staying in New York where he is comfortable. He has a great relationship with Luke. He comes across as unreasonable at first to the firefighters at the station, as they are unused to his kind of intensity. When the media storm around Sabina breaks out, he wins their approval when he supports her rather than firing her. His biggest challenge is his attraction to Sabina. He wants her a lot but he has two major problems. First, he's her boss, which makes any relationship between them impossible. Second, she is a firefighter and he's already lost one woman he loved in the line of duty. As much as he tries, he is fighting a losing battle. I really liked the way that he respects her abilities as a firefighter and stands up to his boss when her past creates more media problems. I loved watching him get to know her better and try to cope with his growing feelings. He is the strong silent type who doesn't talk about his emotions and this causes so communication problems between him and his son as well as with Sabina. He has to learn to express his feelings and this creates a few funny moments as well. There are some really funny scenes with him starting with his encounter with Sabina in Reno. He also has some incredibly emotional moments such as his rescue of Sabina during a fire and their search for Luke and Carly. Rick has an unusual stress fighting hobby that plays several parts in the book and ultimately aids in the resolution of their romance.
Sabina is an independent feisty woman who has worked hard to get where she is. I really enjoyed hearing her talk about the challenges she faced as a woman in a male dominated profession. She is a former child star who walked away from her fame and her famous mother. She has told no one about her past and has even dyed her hair to distance herself further from her old self. She thinks about a one night stand with the sexy guy she met in Reno, but chickens out at the last minute. She is horrified to discover that he is her new boss and does her best to avoid him. They agree to try to forget what happened but circumstances keep throwing them together. When her mother and her old agent show up and try to get her back into acting, they leak her past in an attempt to force her to cooperate. But Sabina is nothing if not determined and digs in her heels. I love her friendships with her fellow firefighters and the way they support her even as they tease her. Most of all I really enjoyed watching her relationship with Rick grow from adversaries to lovers and more. She had to learn to accept her past and how it contributed to the person she is now without letting it define her. I also liked the way that with maturity she is able to mend her relationship with her mother - who is a piece of work herself.
One of the best things about this series (Bachelor Firemen earlier books) is the way all the characters are portrayed as real people. No one is larger than life or perfect. Everyone has their own issues to overcome, but they are always there to support and help their friends. I loved the appearances by Ryan and Brody as they weighed in on events. All the firefighters were great, but I really enjoyed the substory with Vader and his issues with his girlfriend. I'm looking forward to his book.