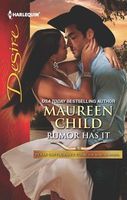 Series: Texas Cattleman's Club: The Missing Mogul (Book 1)
"Something to Hide?"
Seven years ago, wealthy sheriff Nathan Battle proposed to his pregnant girlfriend. But Amanda Altman ripped out his heart, left town--and suffered a miscarriage. Now she's back and Nathan has to get over her once and for all. But his plan to seduce her, say goodbye forever and focus on his job isn't working too well.
Upon returning to gossipy Royal, Texas, Amanda's determined not to show Nathan how much she still loves him. Yet resisting the gorgeous lawman is impossible. Especially when she discovers she's pregnant with his child...again.
Very good book with plenty of heat. Seven years ago Nathan had proposed to Amanda when he found out she was pregnant. While he was away at the police academy she suffered a miscarriage. Rumors had the reason as something else and Nathan believed them. Amanda broke their engagement and left town. Now she's back and the attraction between them is just as intense as it ever was.
Okay, let me start out by saying that, as nice a guy as he basically was, Nathan was an idiot when it came to Amanda. When she got pregnant he proposed because it was the right thing to do. He never told her if he loved her, he just told her the way it was going to be. When she lost the baby all those years ago he believed the rumors and didn't even bother to ask her about them. He just accepted the end of the engagement and walked away. He's never really forgotten her and now that she's back he can't get her off his mind. So he decides to sleep with her one more time to get her out of his system. Instead, she's just getting deeper under his skin. Nathan is the kind of guy who makes plans, and when things don't go according to that plan he gets a bit testy. He doesn't like not being in control. I really enjoyed seeing the effect that Amanda had on his life and how it blew his control all to pieces. I also loved seeing the way he had to deal with the gossip and realize that there was nothing he could do about it. It took a long time for him to accept the fact that he still loved her and he still had trouble actually saying the words. I did like the scene at the Fourth of July celebration when he was winning teddy bears for the little kids. It showed that there really was a nice guy there, even with all his idiocy.
Amanda had come home to help her sister run the diner. She missed the small town while she was off in the city and is glad to be back. The gossip is an irritation but she can live with it. It's a small town and she knows she's going to run into Nathan sooner or later. When they do, sparks start flying again. At first she wants nothing to do with him, but when he comes to her and invites her out so they can talk she gives in. She doesn't expect to enjoy their dinner out so much and is reminded of why she loved him so long ago. She also doesn't expect to end up in bed with him again. She is dismayed to discover that she still loves him and once again has no idea if he loves her too. When she ends up pregnant and he proposes again, just like the last time, she has to decide if she can trust him with her heart again.
I kept waiting for the "Missing Mogul" part of the book to come up, which didn't happen until near the end. I like what I saw of Alex and am looking forward to seeing how this storyline plays out.