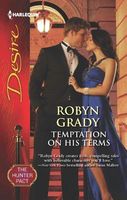 Series:
The Hunter Pact
(Book 2)
"The Nanny's Starring Role"
Amid growing threats to their high-profile family, studio boss Dex Hunter takes custody of his little brother--and tries to put his routine as a Hollywood player on hold. Too bad his brother's new nanny, Shelby Scott, is so easy on the eyes. Soon Dex will do anything to keep Shelby by his side. But when it comes to men, Shelby made a pretty big mistake back home, one that she isn't about to repeat. Now Dex needs to prove he's ready to settle down if he wants to heat things up.
Good book. Dex needs a nanny for his little brother who is coming to visit. He settles on Shelby who is great with kids, but he is also attracted to. Shelby is down on men after a bad experience at home, but she's looking forward to taking care of Tate. Dex is dealing with threats of blackmail and other attacks and wants everyone to be safe.
Dex is basically a nice guy. I really like his closeness with his family and the obvious love he has for his little brother. He wants what is best for his brother and when he meets Shelby discovers that she is great with kids. He is also attracted to her but agrees with her decision to keep things professional between them. When threats start happening he sends his brother to stay with his sister for a few days until he can get a handle on things. Even without his brother Dex wants to keep Shelby close. He likes the way she makes him feel. He also admires her strength of character even as it sometimes frustrates him. I really liked the way he stood up for her against her ex when they visited her hometown. He didn't realize how much he had come to care for her until she left him over a difference in the way they saw the threats against him.
Shelby had fled to LA after what she saw as making a fool of herself back home. She was hesitant to accept Dex's offer of employment because of his reputation as a player. She made it clear to him that, in spite of their attraction, it was hands off. It wasn't long before she discovered that he wasn't as bad as she had thought and that there was a lot about him she could like. She still didn't want to give in to the attraction but it got pretty hard to resist. She liked having Dex and Tate visit her hometown with her as they got to know each other better. She didn't like the way he was dealing with the threats against him and had no trouble telling him so. As she realized that she had fallen in love with him, she felt there was so future because of their lifestyles.
There wasn't really any progress on the question of who is making the threats on their father, but I enjoyed Dex's story. I also liked seeing Cole again and seeing how his comments on his new life have an effect of Dex.