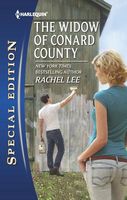 Series:
Conard County
(Book 33)
ONE LAST MISSION

For wounded army vet Liam O'Connor, trekking across the country is something he has to do for his best friend -- he promised Chet he'd deliver one last letter to his wife if he didn't make it home. Fresh out of rehab for a traumatic brain injury that robbed him of his former life, Liam maintains one thought to keep him focused: make it to Sharon Majors.

Even in her grief, Sharon is incredibly beautiful, and her heart boundless. She offers Liam a deal: stay and work on her fledgling ranch and they'll help each other heal. But too soon the former soldier realizes he's facing his most dangerous mission of all: he's falling for his best friend's wife.
Very good book. I really liked both Sharon and Liam. Sharon was finally starting to pull herself together after the death of her husband. As she is trying to decide what to do next, Liam arrives with a letter from her husband. He is familiar to her because of how much Chet used to talk and write about him. Something about him makes her offer him a place at the ranch where they can help each other. I really liked her attitude toward Liam's problems. She wanted to help but she also knew to give him the space he needed to work some things out on his own. She would help him figure out how to do something but then leave him to it instead of hovering over him. She also had no trouble losing her temper with him if she needed too. She had a harder time at first dealing with her attraction to him. There were some guilty feelings but she soon realized that Chet would have wanted her to move on. I loved the way that their love grew slowly.
Liam was fantastic. I really enjoyed the realistic look at the way TBI affects people, especially the veterans. It showed his very real and believable feelings of frustration and anger over what had happened and what he has to deal with. When he arrived at Sharon's ranch I was very impressed with the way that he had followed through on his promise. I also liked the way that he wanted to do the work that Sharon needed done. It was really hard seeing how down on himself he was because of the problems that he now has. When he met Sharon he was immediately attracted to her but felt immense guilt over feeling that way for his "best friend's wife." He worked very hard to suppress those feelings until he discovered that she had them too. Even then he had to fight the doubts he had about himself and whether he would be good for anyone but especially for Sharon. I loved seeing the way that his feelings grew. I liked the fact that even though they have their happy ending they didn't have a miraculous recovery for Liam. They still have the same issues that they will have to deal with but they will be doing it together.