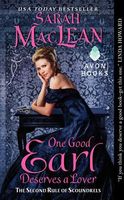 Series:
Rules of Scoundrels
(Book 2)
Lady Philippa Marbury is . . . odd

The brilliant, bespectacled daughter of a double marquess cares more for books than balls, for science than the season, and for laboratories than love. She's looking forward to marrying her simple fiancé and living out her days quietly with her dogs and her scientific experiments. But before that, Pippa has two weeks to experience all the rest -- fourteen days to research the exciting parts of life. It's not much time, and to do it right she needs a guide familiar with London's darker corners.

She needs . . . a Scoundrel

She needs Cross, the clever, controlled partner in London's most exclusive gaming hell, with a carefully crafted reputation for wickedness. But reputations often hide the darkest secrets, and when the unconventional Pippa boldly propositions him, seeking science without emotion, she threatens all he works to protect. He is tempted to give Pippa precisely what she wants . . . but the scoundrel is more than he seems, and it will take every ounce of his willpower to resist giving the lady more than she ever imagined.
Excellent book. I loved Pippa so much. She is different than her four sisters. She doesn't care about the usual things that appeal to young ladies. She is a scientist who believes in what she can see and isn't convinced that love exists. She is due to get married in two weeks and wants to know about the physical side of marriage that no one will talk about to her. She decides to go to Cross, co-owner of the gaming hell that her brother-in-law is part of. He turns her down in a unique way, but she finds a loophole and comes back. There is something about Cross that makes her feel things that don't make sense to her scientific mind. The more time she spends with him the more she realizes that her safe fiance just isn't what she wants anymore. She wants Cross, who makes her feel things and also understands her and likes who she is. The biggest the she has to do is help him overcome his feelings about his past. She does things in a big way at the end. I loved seeing the heroine doing the "go big or go home" for a change.
Cross was great. He's been a big part of the gaming hell for several years as a way to flee his past. He has terribly guilty feelings about the death of his brother. These feelings have affected everything about the way he lives his life now. He is stunned by Pippa's proposition and as much as he is attracted to her he knows he can't do anything about it. He tries very hard to keep her away, but she is relentless in her quest and he finally gives in. The scene where he teaches her about temptation is fantastic, with Cross's self control being strained to its limits. I loved the way that Pippa's intelligence and unique way of looking at life fascinates him. He understands her the way no one else does and he would love nothing more than to have her in his life permanently. But he feels that his past makes her out of reach for him. When that past is used against him he tries to do what he must to protect her. I completely loved the ending and his surprise at how it came about.
I liked seeing more of Temple and Chase, the other two owners. A little more has been revealed about their stories and I can't wait to see what happens to them.