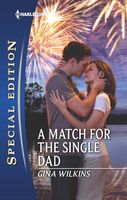 Series:
Bell Family
(Book 3)
"Two Little Matchmakers"
Suddenly single dad Garrett McHale is out of his depth With a busy job as a pilot, he's also raising two daughters by himself. Finding love is beyond his control--until his girls decide their daddy needs a wife And they know the perfect woman to fill the position....
Resort manager Maggie Bell thinks the McHale girls are adorable--and sure, she's noticed their sexy single father a time or two. And yes, sparks fly as Maggie and Garrett begin to spend more time together, until Maggie begins to get an up-close-and-personal look at family life--and the realities of parenting two mischievous little girls. Besides, it doesn't seem likely that stubborn Garrett is willing to risk his heart for love again. His daughters, however, have other ideas....
Fun book. Garrett is pretty much overwhelmed with trying to take care of his daughters now that he's a full time father. His marriage hadn't worked out and with the death of his ex-wife he is now responsible for the girls. He doesn't have time for a social life so when the girls decide they need a new mother they take matters into their own hands.
I liked Garrett. He is doing the best he can. He loves his daughters and gave up his air force career so that he could give them a stable home life. His mother and grandmother help as much as they can but they tend to be a little overprotective. On top of Garrett's own insecurities about keeping them safe the girls are feeling pretty smothered. They want a mother who will be on their side. They are frequent visitors to the Bell family resort and they think Maggie will be the perfect mom for them. As they talk their dad into a week long vacation there, they do their best to throw the two together. Garrett has always noticed Maggie but is not interested in trying marriage again. But he is enjoying her company and the chance to have some time away from his family. He grows to care more for Maggie than he is comfortable with. He's ten years older than she is and knows she enjoys traveling and going out with her friends and feels that she wouldn't be happy with a life with him. I really enjoyed watching Garrett as he tried to cope with having a teenage daughter who was really pushing against the restrictions of her life. The protective dad was in full force but he was also trying to listen to Maggie as she would give him ideas on how to cope. He had a hard time asking for or accepting help but also knew he needed it. I loved the final scenes with the sick family and Maggie's rescue of them.
Maggie was pretty cool. She works at the family resort and has a great way of being able to deal with all sorts of people. She has been aware of Garrett for some time and is always nice to his two daughters. She relates well to them, but is very glad that she doesn't have to raise them as she would worry about doing the right things. While the family is vacationing there she finds herself spending more time with Garrett. There is a lot about him that appeals to her and the attraction is hard to fight also. The more time she spent with him the more she came to care even though they had agreed that there was no future for them. I loved seeing her explain the concept of "me time" to Garrett and how it was necessary in order to avoid getting overly stressed. I loved seeing her help out with the girls and how well she did without realizing it. I really liked her take charge attitude at the end and how she finally accepted that she was better at parenting than she thought she was.