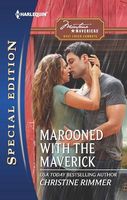 Series: Montana Mavericks: Rust Creek Cowboys (Book 1)
"Rust Creek Ramblings
Seducing the Schoolteacher?"
We apologize, dear readers, for our brief hiatus in publication. The offices of the "Rust Creek Rambler" were damaged in the Great Flood, but we are now filing our reports from a bar stool at the Ace in the Hole. And do we have scandalous news for you
We have it on good authority that during the storm, gorgeous rapscallion Collin Traub was stranded with our beloved kindergarten teacher Willa Christensen--alone. In a barn. "Overnight." No one knows why, but Willa could barely stand the sight of Collin before. And now? Oh, readers--we don't like to kiss and tell. But our sources tell us that the sexy Rust Creek cowboy has set his sights on lassoing the sweet schoolmarm...for good
Very good book. It starts out with the river flooding out half the town. Willa is trapped in her car and Collin is the one who rescues her. Willa is glad to be safe but not real happy that it was Collin who did it. Four years ago she had made advances to him and been rejected. Hurt and humiliated she does her best to avoid him now. Being trapped together makes her realize that she was being silly and she and Collin decide to let the past be and become friends. Over the next few days she sees a side of Collin that she never expected. The man with the reputation of the town troublemaker has become one who is calm in a crisis and able to get things done. The more time she spends with him the more she realizes that she is falling for him. I love the way that Willa can see the good in him and tries so hard to make him see it too. I really liked the fact that she admitted that she had misjudged him. I also enjoyed seeing her stand up to her brother and make him understand that he didn't need to worry about her love life.
Collin is the youngest of the six Traub boys and as such had managed to escape a lot of the supervision that his brothers had received. As a result he grew up being pretty wild and good at getting into trouble. He had a reputation as a bit of a heartbreaker because he doesn't get serious about any woman. He feels that because of that reputation he isn't really good enough for anything permanent with a woman so he doesn't try. This was the main reason he had rejected Willa all those years ago. He's always liked her and has been amused by her avoidance techniques, but he's ready to end that silliness. Getting trapped with Willa gave him that chance, but created another problem. He discovered that he was also very attracted to her. As they spend time together working on the flood cleanup he tries very hard to fight his growing feelings. I loved the way that he finally gave up the fight, but he still didn't believe that he was someone that would be good for her. As many times as she told him just how wonderful her was he still couldn't believe in himself. It took awhile for him to realize just how much he loved her, but his big moment at the end was fantastic.
I really enjoyed the background story of the flood and how people are coping with it. This book shows some of the devastation and the emotions that go with it. I'm really looking forward to the rest of the series and how the people of Rust Creek Falls repair their town and their lives.