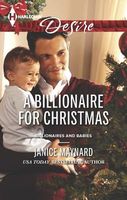 Series:
Billionaires and Babies
(Book 40)
All business, all the time, is billionaire Leo Cavallo's motto. So two months of forced relaxation is certainly not the CEO's idea of a Christmas bonus. Then he meets his neighbor, the irresistible Phoebe Kemper, and a storm forces them to become roommates. Suddenly, the holidays are looking a whole lot brighter.

But beautiful Phoebe isn't living alone. She's babysitting her infant nephew. Somehow, playing temporary family is surprisingly appealing. But what will Leo choose when it's time to go home?
Very good book with some important changes for both Leo and Phoebe. Two months of forced time off is not what workaholic Leo wants. When a storm damages his cabin he talks Phoebe into letting him stay with her. Phoebe is watching her nephew and suddenly Leo's time off isn't such a hardship.
I liked both Leo and Phoebe. Leo had a heart attack at the ripe old age of thirty-six. His brother and his doctor have told him he's not allowed to go back to work for two months, until his body has had time to recover and hopefully he has found a way to put some balance in his life. Leo is so used to being busy all the time he has no idea what he's going to do with himself. When he arrives at his destination he discovers that his cabin has been damaged by a storm and is unusable. After meeting Phoebe he doesn't really want to go back to Atlanta right away but maybe explore the chemistry he's feeling with her. He talks her into letting him stay with her and help supervise the repairs to the cabin. He senses that she feels the same attraction. He is surprised by the presence of her nephew but not put off by him at all, but admits that he doesn't see himself ever having a family. I enjoyed seeing Leo run scared from doing anything with the baby at first. He was definitely a bit panicked when Phoebe left him in charge for a little bit. He coped pretty well and started to relax a bit around the baby. I liked seeing the way that being with Phoebe distracted him from his work worries. I loved how he got so involved helping her decorate for Christmas. His care for her when she had her meltdown was wonderful to see. It was obvious that Leo was coming to care for Phoebe quite a lot, but he still hadn't told her why he was there. Keeping that kind of secret from her just because of his pride was not a smart thing to do. When she found out she was hurt and angry. Leo had to face up to his fears and come clean with her if he had any hope of rescuing their relationship.
Phoebe had been a very successful stockbroker and a workaholic. She was engaged to a fellow stockbroker when she found herself unexpectedly pregnant. When she ended up losing the baby she also broke things off with her fiance who was a jerk. She was devastated and walked away from her job and lifestyle and moved to Tennessee where she tried to put her life back together. She was taking care of her nephew and living quietly when Leo arrived. Her attraction to him scared her a bit because it was so strong. It also made her start feeling things again and she wasn't sure she liked that. She recognized Leo's workaholic tendencies and wanted to help him avoid what she had gone through. I liked seeing her get Leo involved in baby care and doing things with her. She knew she was falling for him and that he would be going back to his life when his vacation was over. She can't help fantasizing about a life with him even though he had said he wouldn't ever have a family of his own. She was amazed by his gentleness and care for her when she told him about her past. It also made her feelings for him even stronger. She had no trouble going after what she wanted from him. Everything was going well for them she thought, until she discovered that he had hidden the truth about his illness from her. She was devastated by what she considered his lack of trust in her. She had finally started feeling like she could start living a part of her old life again and his actions made her wonder if she could trust herself yet.
I liked the way that each of them had to admit to the changes that they needed to make to have a happy and well balanced life. Leo seemed to have the biggest self realization as he admitted that Phoebe had opened his eyes to the life that he could have.