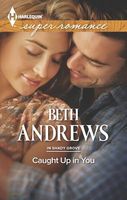 Series:
In Shady Grove
(Book 3)
His teachers were never like this!

As a single dad and a partner in the family construction company, Eddie Montesano's days are jammed. Then he discovers his son Max's teacher is none other than Harper Kavanagh. Gorgeous and smart, single mom Harper is even more captivating than she was in high school. Plus it's clear she's dedicated to helping Max with his learning issues. How can Eddie resist making time for her?

Too bad there are clear rules limiting the relationship he and Harper have. But with their attraction out of control, Eddie is about to break those rules. Because if it means the chance at a future with her, he'll take the risk of getting caught!
Very good book with some emotional hotspots. Eddie is a single dad and pretty darn busy. When he gets a call from his son's teacher he finds out Max is having trouble in school. Harper wants to help Max but the attraction to Eddie is creating some problems for her.
Eddie is a single dad who has a really busy life. He feels lucky to have family around to help him with his son Max. His ex-wife had left them when Max was little but now wants to get more involved in Max's life. When Eddie gets a call from Max's teacher, Harper, he finds out that Max is having trouble in school. He discovers that Harper thinks Max has ADHD and wants to get him tested so he can have extra help. Eddie, who had problems is school himself and suffered from ridicule because of it, doesn't want Max treated differently than the other kids. He talks Harper into providing some after school tutoring for Max. He also feels an intense attraction to her. He remembers her from high school when she tutored him in English and he had a bit of a crush on her. But he also has some self esteem problems because of his learning issues and feels that she would not be interested in him. I loved seeing the way that his quiet ways frustrated Harper at first, but she soon learned that he would talk if he had something to say. He was pretty eloquent when he wanted to be. I really liked his patience with Harper as she dealt with the idea of leaving her grief behind. The more time that Eddie spent with Harper the more he came to care for her, but he was still having problems believing she wants to be with him. Eddie has some problems with his pride keeping him from asking for or accepting help that gets in the way of their growing relationship. The emotions as he faced his fears were pretty intense. I loved his go big moment at the end.
Harper is a single mother who is slowly getting over the death of her husband a year ago. She loves her job teaching. Max is a kid that she thinks is pretty special and she wants to help him get past his learning problems. When she meets with Eddie she is stunned when he refuses to accept her recommendations and furious when he accuses her of simply wanting to label Max rather than actually teach him. After a couple days they both calm down and are able to work out a plan for helping Max. This brings her into frequent contact with Eddie and she discovers that she is feeling things for him that she hasn't felt since her husband's death. This makes her feel terribly guilty and she tries very hard to push Eddie and those feelings away. I really liked seeing her accept that it was okay for her to finally move on. I enjoyed seeing her with her daughter, who was adorable but a real challenge to be around sometimes. Her heart was touched by how great Eddie was with Cass. His stubborn independence made her feel that he didn't really care about her. I loved the way that she stood up for her own needs and ended up getting her heart's desire.
There was a secondary story involving Harper's mother-in-law and her inability to deal with her grief over her son's death. Her obsession with appearances seemed to make it impossible for her to really grieve. This led to problems with her marriage and other relationships. It was interesting to see how this was handled.