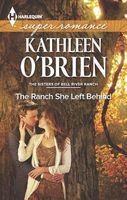 Series:
Sisters of Bell River Ranch
(Book 3)
Who knows where a kiss will lead!

For one year, Penny Wright is doing whatever she wants. She's returned to her hometown in Colorado -- but not the family ranch -- to cross items off her risk-it list. To her surprise, she's braver than she thinks, because when she spies a hot newcomer doing something sweet for his daughter, Penny can't resist kissing him on the spot. Unfortunately, he turns out to be Max Thorpe. Her new tenant!

Luckily, they both agree to be just friends. But with the sizzling attraction between them, "just friends" is hard. Maybe it's time for Penny to add a new item to her list -- a family with Max.
Very good book. Penny is the youngest of the Wright sisters and the last to return to Colorado. She was eleven when her father killed her mother and she was sent to live with an aunt in California. Now that aunt has passed and Penny is free to live her life. But she doesn't want to go to the family ranch and get mothered by her sisters, so she buys a duplex and rents out the other half to Max and his daughter. Her introduction to Max came when she impulsively kissed him before she knew who he was. Neither is looking for a relationship so they agree to be friends. That turns out to be harder than they expected.
Penny was terrific. She is finally able to take control of her life after being stuck caring for an elderly aunt who was pretty uptight. Penny had been the bright and creative sister and all of that was squashed by her aunt's conservatism. When Penny headed to Colorado she had a list of things she wanted to try. I loved seeing her watch Max when he came in the ice cream parlor with Ellen and be so great with her even when Ellen was being a brat. She was so impressed that she kissed him then disappeared, thinking she'd never see him again. She wasn't really happy to find out he was her tenant, as that could put a strain their business relationship. She was relieved when he agreed that they should just be friends. Penny has plans for the next year, to have a chance to get to know herself without depending on anyone else. She discovers that the attraction she felt for Max doesn't go away. I loved the way that Penny stood up for what she wanted in the face of her sisters' desire to protect her. She also made a good start at the wishes on her list, giving her the confidence she needed to move on. I loved her joy in her art and the bridge it created to get to know Max's daughter Ellen and help her deal with her mother's death. Penny had so many struggles to try to overcome the memories of her life on the ranch. I loved seeing her overcome so many of them. Penny also discovered that getting to know Max meant taking the biggest risk of all - risking her heart. I also enjoyed seeing her get to know and love Ellen. She also loved them so much she pulled back in order to give Max the chance to concentrate all his energy on Ellen. The ending was so emotional that it required a good supply of tissues.
Max had brought Ellen to Colorado to get her away from some bad influences back in Chicago. With the death of his wife, Max realized that it was his responsibility and he had no clue how to do it. Max and his wife had been on the verge of divorce when she died. I loved seeing the way he decided that he had to step up in a way that he'd been avoiding before. Ellen was now going to be his sole focus. He didn't expect a young and beautiful landlady who he was attracted to. I loved seeing how Max tried to be what Elle needed and his frustration when he felt like he was failing. Penny's insights gave him a shot at making things right. Max was also still fighting the trauma of having been kidnapped and held for ransom. He resists his growing feelings for Penny but ultimately realized that being with her helped to heal him. I loved his goal to help Penny fulfill all the things on her list.
I really liked seeing Penny's sisters and their families and getting a bit more of their complicated relationships. It was great to see how much they cared for each other and how they wanted to take care of Penny. I loved seeing her stand up to them and how they ultimately saw things from her point of view. I loved Max's daughter Ellen and how she was portrayed to well. Her issues with her dad and the memories of her mother were beautifully done. I got a kick out of her developing friendship with Alec and the trouble they got into. The changes she went through were so great as she learned to trust her father's love for her. She also had to deal with her feelings about Penny and her growing role in their lives.