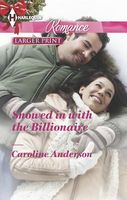 One magical Christmas Eve…

Caught in a blizzard, Georgia Beckett is forced down a narrow lane she'd hoped to avoid…and not just because of the snow! The road takes her past the beautiful abandoned house of her youth -- the new residence of her childhood sweetheart.

Sebastian Corder's shocked to hear the doorbell ring -- he never expected to see Georgia again. Nine years ago, both chasing different dreams, they went their separate ways.

Now Sebastian's hand hesitates. Is he ready to open the door to the past? But the snow's getting heavier…and there's only one way to find out!
Nice reunion romance. Georgia and her toddler son get stuck in the snow right in front of Sebastian's home. It's the same house that she and Sebastian used to hang out in when they were high school sweethearts. Georgia isn't sure that she wants to face him, but the heavy snow gives her no choice. Sebastian feels the same way but can't leave them out in the snow. Neither has been able to forget their time together or their parting. Both need to put the past behind them in order to get through the next few days with their hearts intact.
Georgia had moved on with her life, marrying another man and having a son. She's widowed and headed home to her parents for Christmas during a terrible snowstorm. When she takes a shortcut and gets stuck in a snowbank she has to face her past and ask Sebastian for help. Their initial meeting is hard as both remember things that were said as they parted ways. I liked the fact that they tried to put the past aside so that they could give her little boy a good Christmas. Georgia discovered that she was still attracted to him, but also that he hadn't seemed to change much. Her biggest complaint had been that he didn't talk to her about any of his feelings and he is still pretty closed off. Their attraction still popped up at inconvenient times. Georgia also found that seeing him again brought her old feelings forward and she was afraid of getting involved with him. I liked the way she was finally able to explain to him what had driven her away. Now that she's older she's able to see that it wasn't all his fault, but she doesn't see anything changing between them. I loved her reaction when he came to see her and finally told her what had caused him to change so much.
Sebastian and Georgia had so many dreams that they wanted to make come true together. The abandoned house was at the center of them and when Georgia showed up during that storm it really knocked him off kilter. He had never understood why she had left him and still is angry about it. Seeing her again brings back the old memories, but he tries to bury them for the sake of her son. I loved the way that he took to Josh and had so much fun with him. It brought home to him just how much he was missing in his life. There were many times that he was able to forget their problems and just enjoy being with them. He fought the feelings that were growing in him because he couldn't see Georgia taking him on as he was, but was still unable to talk to her about his past. I loved the way that it was his coworker who pointed out to him what his trouble was and encouraged him to go after Georgia. It took a lot of courage for him to finally tell her about his fears and what had been driving him all this time. I loved the ending and the surprise that Georgia had for him.