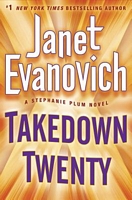 Series:
Stephanie Plum
(Book 20)
Stephanie Plum has her sights set on catching a notorious mob boss. If she doesn't take him down, he may take her out.

New Jersey bounty hunter Stephanie Plum knows better than to mess with family. But when powerful mobster Salvatore "Uncle Sunny" Sunucchi goes on the lam in Trenton, it's up to Stephanie to find him. Uncle Sunny is charged with murder for running over a guy (twice), and nobody wants to turn him in--not his poker buddies, not his bimbo girlfriend, not his two right-hand men, Shorty and Moe. Even Trenton's hottest cop, Joe Morelli, has skin in the game, because--just Stephanie's luck--the godfather is his "actual" godfather. And while Morelli understands that the law is the law, his old-world grandmother, Bella, is doing everything she can to throw Stephanie off the trail.

It's not just Uncle Sunny giving Stephanie the run-around. Security specialist Ranger needs her help to solve the bizarre death of a top client's mother, a woman who happened to play bingo with Stephanie's Grandma Mazur. Before Stephanie knows it, she's working side by side with Ranger and Grandma at the senior center, trying to catch a killer on the loose--and the bingo balls are not rolling in their favor.

With bullet holes in her car, henchmen on her tail, and a giraffe named Kevin running wild in the streets of Trenton, Stephanie will have to up her game for the ultimate takedown.
Stephanie's antics are still fun, but not as hysterically funny as they were in the earlier books. In this one, the main story is the search for "Sunny" Sunucchi who has skipped out on his bond. Vinnie is out a whole bunch of money if Sunny isn't found and it's Stephanie's job to do it. The problem is that Sunny is a very popular guy and no one will rat him out. She can't even get any help from Joe because Sunny is a relative, even if he is a bad guy. As usual, she manages to find him a few times but can't take him down. She even gets tossed off a bridge while wearing a cinder block because of him. Thank goodness Ranger was there to save her.
Ranger has also asked her to help him investigate some murders. All of the dead women have played bingo with Grandma Mazur, but Stephanie is having problems trying to find any other connections. Meanwhile she and Grandma are hitting up the bingo games and funeral viewings looking for clues.
Stephanie is really beginning to think that she needs to look at a new career. She gets to know a butcher who might be a suspect in the murders, but who also tries to teach her about the butcher business. I really enjoyed seeing her reactions to the various things she had to do, considering the sight of raw meat tends to make her faint. There's a great scene where the butcher tries to teach her to cook a steak and she sets his apartment on fire.
She and Lula are still bumbling around some of their takedowns, usually ending up with Stephanie getting hurt. The broken nose scene is pretty good.
Then there's her relationships with Joe and Ranger. She still can't make up her mind between the two of them. Joe is a nice normal guy, and the sex between them is great. They've been mostly together for a long time, but neither seems really ready to commit, but Stephanie is starting to think that way. She actually looking at learning to cook, decorating her apartment, and pinning Joe down. Just as she's ready to have a talk with him she gets a reminder look at his family as they show up at his place for a ball game. His brothers and nieces and nephews are wild, with the kids seeming barely housebroken. Then there's his grandmother Bella who hates Stephanie and is constantly giving her the evil eye. This makes Stephanie rethink her position. Joe also tends to not approve of her bounty hunter job and has often suggested she look at another type of job.
There's also the fact that she still has a thing for Ranger. Just being around him tends to get her hot and bothered, but he's always been anti-commitment. The thing about Ranger is that he's always there for Stephanie. His protectiveness is constant. All she has to do is call him and he's there within minutes. Even when she doesn't call him he's watching out for her. In this book there seems to be a slight changing of the anti-commitment attitude. I love his patience as he seems to be waiting for her to make her choice. I also love the way he accepts her just the way she is. He doesn't try to change her, he even asks for her help. In this book he leaves a lot of the investigation work in her hands, showing he has confidence in her abilities. I can actually see her giving up the bounty hunter gig and going to work for Ranger permanently.
Overall, I will keep reading, just to see how those relationships progress. I'm definitely rooting for Ranger these days.