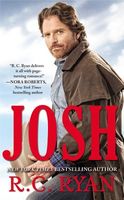 Series:
Wyoming Sky
(Book 2)
Rancher and mountain climber Josh Conway has never backed down from a challenge. So when a photographer disappears in the wilderness during a blizzard, Josh answers the emergency call and leaps into action. Yet he's soon shocked to find the person in "distress" is doing fine-and she's a gorgeous blond spitfire who's as brave and bold as he is.

Sierra Moore will stop at nothing to capture the perfect picture, even if it means braving a snowstorm in the mountains. She's not used to being rescued, especially by a ruggedly handsome cowboy who makes her heart skip a beat. Sierra can't turn down Josh's invitation to ride out the storm at the Conway family ranch-and she can't resist his slow, steamy kisses, either. But this mysterious beauty is hiding a deadly secret. Now as a dangerous force closes in on her, Sierra fears it will destroy everyone she cares about . . . starting with Josh.
Very good book with a good blend of romance and suspense. Josh is very much at home in the mountains and when the rangers ask him to find a missing hiker, he heads right out. Finding Sierra wasn't hard, she wasn't lost at all. She is a photographer and had simply gotten involved in what she was doing and forgotten to check in. She's a bit wary of Josh when he shows up but it isn't long before she comes to trust him. She's glad to have him on her side when a stalker shows up.
I really liked both Sierra and Josh. Sierra has grown up as a loner. Her parents never married and were more interested in their own lives. She spent her childhood in boarding schools, never quite fitting in. Thanks to her parents and a couple bad relationships, she doesn't believe in love at all, that men will say whatever they need to in order to get what they want. She has decided to concentrate on her career as a photographer and has come to the Tetons to get some nature shots. She is also trying to get away from a man who became too intense in his pursuit of her. She got so involved in her photography she never thought about notifying the rangers until Josh showed up to "rescue" her. Once she got over the fright of a strange man invading her space, she couldn't help but notice his good looks and the attraction zinging between them. I liked the immediate connection they had. It made it much easier for Sierra to go to the ranch with Josh when she found that threatening note in her car. I loved seeing Sierra's surprise at how easily she was welcomed at the ranch and how quickly she felt part of them. I really loved seeing her excitement at all the things she was being exposed to. She had such a great time taking photos of the cattle roundup I could almost see the pictures myself as she described the scenes. When she and Josh went back up on the mountain to take more pictures I loved her reaction to the sights and her joy in everything she saw. She felt herself falling for Josh but she was afraid to trust those feelings. And when her stalker showed up and put everyone in danger, she couldn't deal with the guilt. She felt that because of the mistakes in her past and what had happened that she didn't deserve to have a good life. It takes some work for Josh to convince Sierra but the result was worth it.
Josh is the middle brother and a bit of a loner himself. He loves his family, but sometimes he has a need to escape. Josh has always felt at peace on the mountain. Because he knows it so well, the rangers call on him when they need help finding missing hikers. I loved seeing him head right out, his concern evident. His surprise when he found Sierra perfectly well and unaware that she was "missing" was great. Once he convinced her that he wasn't a threat, they got along very well. Josh was drawn to her beauty and her joy in what she was doing. When they started their hike off the mountain he was quickly impressed by her skills. He didn't really want to part ways with her once they got to the ranger station and was happy when she finally accepted his invitation to stay at the ranch. I loved seeing him draw her into their circle and make her feel at home. He had never felt anything before like what he was feeling now and he wants a chance to explore it. When he found out about Sierra's stalker his protective side came out and he was determined that she stay where it was safe. I had a great time seeing him try to get closer to Sierra and getting delayed by his dad. When Josh and Sierra went on their hiking trip I loved the way that he told her so much about his past and plans for the future. He wanted her to be part of it but he didn't want to rush her either. His fears for her when they were attacked brought home to him how much he cared. When it was all over, the scene when she tried to leave was so moving, as Josh showed her just how much he understood her and wanted her in his life.
The suspense part of the book, seeing Sierra has she tried to escape her stalker was well done. It started with just a hint of what was going on, and then expanded to include things from his point of view. As the book went on and his obsession grew I got very invested in seeing how it would turn out.
I loved the whole Conway family. They were such an important part of the whole story, from their first welcoming of Sierra to the ranch to Big Jim's machinations to keep her from leaving. The love they have for each other is obvious. Their teasing was hilarious, but never mean. I loved the way that they took right to Sierra, making her part of them without any trouble. I also loved the way she fit in with them so well, right from her first comment to Big Jim about her being the "fool hiker" who got lost. I want to read Quinn's and Jake's stories as soon as I can get to them.