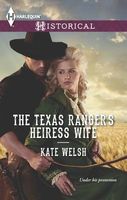 WORLDS APART…

Pampered society princess Helena Conwell has built a successful ranch from a ruined wreck, but now hostile raiders are hungry for her land. Only one man can protect her -- Brendan Kane, the wild Texas Ranger she married at gunpoint.

After three years away, Brendan vows to defend the ranch and claim his wife back. Irish-born and darkly irresistible, he still has the power to quicken Helena's heart with his emerald-green gaze. But, each as fiercely proud as the other, can they admit to still being in love?
Good book. Both Helena and Brendan have allowed their pride to keep them apart. They met and fell in love three years earlier. But Brendan didn't know her background and when he found she was an heiress he felt he wasn't worthy of her. Helena was desperate to escape her unscrupulous guardian and used their love to force him to marry her. When she gained access to her inheritance she used the money to buy a rundown ranch against Brendan's wishes. He didn't want something purchased with her money when it was his job to support her. He left her to become a ranger and she ran the ranch on her own. Now there are raiders killing ranchers and Brendan has returned to protect her and find the culprit. He also wants Helena back.
Helena is a strong and independent woman. She had to grow up fast after Brendan left. She had been somewhat spoiled by her father but her love for Brendan was real. She didn't understand what his problem was with using her inheritance to buy the ranch. When he left she put all her effort into making the ranch a success and has succeeded. She is afraid of the raiders and what will happen if they attack her ranch. However, she is not happy at Brendan's reappearance. She'll accept his help in stopping the raiders but she wants nothing to do with him personally. She is still furious and hurt over his desertion. She has always felt like he left because he found her lacking in some way. Her refusal to let him see her feelings has her saying some pretty nasty things to him. It's also a form of protection as she discovers that her feelings for him have never gone away. I loved seeing the way that she showed him just how much she had changed. The scene at the beginning with the calf that was stuck in the mud was great. As the days went on they started to get to know each other again, but were still butting heads. Things changed the day of the raid as they admitted that they wanted to try again. Helena still refuses to tell him her feelings nor has she found a way to tell him of the biggest reason for her anger against him. Helena also doesn't know that her "friend" Avery is the man behind the raids and continues her friendship with him. She also has a tendency to blow off Brendan's rules for her safety. I loved the way that she tried to do things to make things better but sometimes made them worse. I loved her actions at the end and the help she got to save Brendan. The suspense was pretty intense as she tried to avoid the bad guys and get to Brendan. The confrontation with Avery at the end was fantastic.
Brendan was an Irish mine worker when he met Helena. The feelings between them were instant and strong. But he also had strong feelings against men like her guardian and when he found out the connection he was not happy with her. The fact of her money made it even worse. He tried to push her away because of their differences. I loved his shock when she held a pistol on him and forced him to marry her to keep her away from her guardian. The part where his sister helped was hysterical. Once they moved west things were going great until she went against his wishes and bought the ranch. His pride couldn't stand the fact that he wasn't the one who did it and he left her to become a ranger. In three years he hasn't forgotten her and has been thinking about ways to get back to her. The need to catch the raiders has given him the perfect opportunity. He was surprised at her extreme anger but determined to keep her safe. I also loved his reaction to finding out just how much she was responsible for the success of the ranch. It gave him a whole different view of who she is. He wasn't happy about her friendship with Avery but couldn't tell her why in order to protect her. His fears for her when she was injured in the raid made him realize just how stupid he had been to stay away from her. I loved seeing his care for her and the way they were repairing their relationship. He let his pride rear its head again when it came to the social and nearly ruined everything. It was fun seeing him try (unsuccessfully) to keep her away from the final confrontation. It was great to see them admit just how much their pride had cost them and move forward.