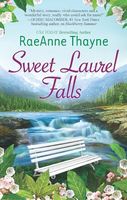 Series:
Hope's Crossing
(Book 3)
Love knows no season
Spring should bring renewal, but Maura McKnight-Parker cannot escape the past. Still reeling from the loss of one daughter, the former free spirit is thrown for a loop by the return of her older daughter, Sage, and the reappearance of her first love, Sage's father. Jackson Lange never knew his daughter-never even knew that he'd left the love of his life pregnant when he fled their small town-but he has never forgotten Maura.

Now they are all back, but Sage has her own secret, one that will test the fragile bonds of a reunited family. Thrown together by circumstances and dedicated to those they love, Maura and Jackson must learn to move forward and let go of the mistakes of their past for the bright future that awaits them and their friends in Hope's Crossing.
Very good reunion story. Maura is still reeling from the death of her younger daughter in a car accident. She tries to put a good face on things for her friends and family but she isn't really in the mood for the holidays. Her world is rocked even further when her older daughter comes home from college with a visitor - the father she never knew. Maura had never told anyone who he was after he left their town saying he wouldn't be back. She had tried to contact him but he didn't return her calls, so she continued on her own. Maura has built a good life with family and friends and owns her own business. Seeing Jack again has brought back memories, both good and bad. I loved seeing the way that she and Jack were able to deal with each other in a civil manner from the beginning. She was still angry with him for leaving and never contacting her, but she also admitted that there was still an attraction to him. She also has to deal with the idea of Sage getting to know her father, and having to share Sage with him. I liked the way that she was honest enough to admit to herself that she was jealous of Sage's new relationship with her father, fearing that she'll lose her special relationship with her daughter. When an issue comes up with Sage that needs both her parents' support, Maura and Jack have to learn to coexist. What they discover is that their love hadn't really died after all. I loved the fact that they didn't just jump back into an intense relationship but took the time to get to know each other again and make sure that they had something that would work.
Jack couldn't wait to leave Hope's Crossing when he was a teenager. His mother had had mental issues when he was growing up before killing herself, and his father had withdrawn to his business world. When his father basically stole the land Jack had inherited from his mother, Jack had enough and left. He wanted Maura to go with him, but she wasn't ready to leave everything behind. Jack worked hard and became a successful architect, frequently appearing as a guest lecturer at colleges, which was how he met Sage. After discovering their connection he was furious at Maura for cheating him out of all those years of knowing his daughter. As angry as he was, I appreciated the fact that he didn't get vocally mean to her and generally be a jerk. He let her know that he planned to stay around and get to know Sage. It was fun seeing his confusion about staying in Hope's Crossing when he had sworn he would never come back. He couldn't understand why he felt compelled to stay. I loved his growing feelings for Maura and loved it when he told her he wanted to see where their feelings would lead them. I liked the fact that it wasn't an overnight decision but a slow progression. Jack also had to deal with seeing his father again. He still had a lot of anger toward his father and it was very hard to let it go. That resolution wasn't an overnight thing either, which made it much more realistic.
I liked the part that Sage had in this book. Her feelings of betrayal were real when she found out about Jack, but she also still loved her mother and told her so. I wasn't surprised by the problem that she had and found the way it echoed her mother's life pretty ironic. That it did was one of the things that helped Jack and Maura deal with it so well. I thought she showed pretty good maturity in her decision making. I also enjoyed her relationship with her grandfather and the part she played in Jack and Harry's reconciliation. Her emotions over the decisions she had to make at the end of the book were very realistic and I loved the solution that Harry came up with.