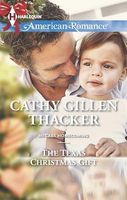 Series:
McCabe Homecoming
(Book 3)
The Gift Of Love

A home for the holidays -- that's a pretty tall order, with Christmas only a few weeks away. But venture capitalist and single father Derek McCabe never takes no for an answer. And he's certain that Eve Loughlin is just the Realtor to find a house for him and his young daughter.

Derek needs more than shelter, though. Being with Eve makes him aware of all he's missing: love, companionship and a beautiful woman to share his life. Eve is all business, but there's no denying the attraction that keeps bringing them together long after the contract is signed. Derek knows just what he wants. Can he get past that cool exterior and make her his own Christmas Eve?
Good book. Derek can't wait to move into a house, he's tired of living in a hotel with his little daughter. Eve has been highly recommended as a Realtor and he's willing to turn the whole search over to her. But Eve won't pick the house for him and forces him to actually look at available houses. There's something about Eve that makes him realize that he wants more than just a house, he wants it all. Though she is equally attracted to Derek, Eve is wary of how fast Derek is moving.
I liked Eve though her wariness sometimes irritated me. She had grown up with just her mother, who was a no nonsense businesswoman. While she knows her mom loves her, Eve has no experience with romantic love. Her one serious relationship fell apart when they realized they had simply been caught up in the excitement of her first real estate sale to him. It has left Eve super cautious about any kind of relationship. I liked the way that she stood up to Derek at the beginning of the house hunting and made him actually participate. She didn't anticipate the immediate attraction between them and tried very hard to keep Derek at a distance. It was hard to resist his pleas for help at the house, or with his daughter, or just having him show up to do something nice for her. The more intense he got the more nervous she became. It wasn't long before she had to decide which was stronger - her fears or her love for him.
Derek has joint custody of his daughter with his ex-wife, with whom he is still friends. He wants to make things as easy on his daughter as he can, so he's looking for a house in the same neighborhood. As busy as he is, he's prepared to tell Eve his needs and buy whatever she comes up with. He's surprised when she won't accept that, but soon has to admit she was right. It's no hardship for him to spend more time with her. Even after the purchase of his house is done he finds ways to bring the two of them together. I loved all the little ways he tried, from needing her help regarding a repair to getting her to help with decorating. As a take charge kind of guy when he sees something he wants he goes after it, and he decided that he wanted Eve for more than just real estate matters. He had a habit of pushing her for more which only made her more skittish. It took him nearly losing her for him to realize that there had to be some compromise in their needs. I loved the way that they finally worked things out - their gift exchange was perfect.