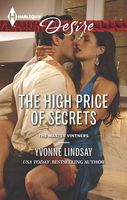 Series:
The Master Vintners
(Book 4)
Protecting his foster parents means everything to Finn Gallagher. So when stunning Tamsyn Masters appears on his doorstep, looking for her mother, he does what he has to do -- he lies to her. It's not as if Tamsyn hasn't done worse. And if a harmless seduction will keep her where he wants her, why not?

Now Finn has another secret…he's falling for Tamsyn. She's not what he thought, and time is running out. The choice is clear -- Tamsyn or the truth. Because he can't have both.
Very good book. Both Tamsyn and Finn have to deal with both finding love that will define their futures and also be able to let go of their pasts. There was so much emotion between the two of them that I went through several tissues while reading it.
Tamsyn has had to deal with too many lies. Between her entire family lying to her about her mother and then her fiance cheating on her, she needs to get away. Tamsyn is now determined to find her mother. Her search has led her to the vineyard of Finn Gallagher. He claims that he doesn't know her mother, but offers to show her around the area while she searches. Their initial meeting had not gone well, but he seems to be more cooperative now. The attraction she feels for him is doing pretty good things for her confidence also. While she occasionally gets the feeling he's hiding something, she's really starting to fall for him. I really liked Tamsyn. While she seemed pretty impulsive, running off to New Zealand like she did, overall she is a smart and independent woman. I liked the way that she wasn't going to give up her search even though she hit a roadblock with Finn. Her determination led her to take a job working with local seniors and finding a place to live. When she discovers his deception she is devastated and even more so when she finds out the truth about her mother. I thought she was terrific all through the final stages of the book and really showed what a great person she was.
Finn's actions at the beginning showed how intent he was on protecting his foster parents. He was so sure that he was doing the right thing by deceiving Tamsyn. Everything he thought he knew about her made him think that she was selfish and spoiled. He was attracted to her, though, and thought that having a fling with her would satisfy him and keep her out of trouble too. But the more he got to know her, the more he realized that she was not the brat he had believed her to be. I felt a little bit bad for Finn because he had messed up so badly. I liked his protectiveness toward Ellen, but he probably should have made greater efforts to convince his foster father of the truth. I enjoyed the way that he got to know Tamsyn and realized that he was falling for her. He really understood her and it was killing him that he couldn't tell her the truth. I really enjoyed seeing the things they did together and how much alike they really were. I loved seeing the decision they made about Tamsyn's legacy from her mother.