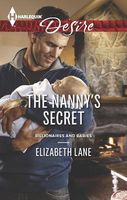 Series:
Billionaires and Babies
(Book 41)
Haughty and handsome, resort owner Wyatt Richardson has never met a problem he couldn't buy his way out of. Facing custody of his teenage daughter and her newborn son, he hires a nanny to handle them both. His attraction to Leigh Foster is an unexpected perk. He's confident the feeling is mutual.

But Leigh knows she's on shaky ground. Falling for her new boss could prove devastating -- especially if Wyatt finds out her true connection to baby Mikey. But when the billionaire's arms beckon, will she be powerless to refuse?
Very good book. Wyatt has a lot to learn about parenting and Leigh turns out to be just the one to help him.
Wyatt is desperate to find a nanny for his new grandson. His pregnant teenage daughter had been dumped with him by her mother and Wyatt is at a total loss what to do. When he hires Leigh he suspects she's not the expert she says she is, but he's willing to take the chance. His attraction to her is just the icing on the cake. At first I didn't find him very likable. He seemed more interested in getting Chloe to give up the baby and go back to being a teenager than in doing the right thing for the baby. It quickly became obvious that his real problem was simple fear. He had not had a good childhood and had built his business from the ground up. He had spent all his time building his business, thinking that being able to provide for his family was enough. He had never learned how to show love in any way other than buying things. Hiring Leigh was his way of throwing money at that problem. He was not particularly happy to find that she was intent on making sure that Mikey was a full part of the family, not just an inconvenience. I loved seeing the way that Leigh's instruction and efforts had him feeling more for the baby than he had ever felt before. He also wanted to give in to his attraction to Leigh, but wanted to do it without involving emotions. But he found that the more time he spent with Leigh the more he wanted to keep her with him. His growing feelings for her also showed him how better to relate to his daughter. I loved seeing him open up to all the feelings he had by the end of the book.
Leigh wanted the nanny job for one reason. The baby's father is her younger brother and she wants to make sure that the baby gets a good start in life. She knows that she can't tell Wyatt who she really is. He doesn't know the identity of Mikey's father and she fears that if he did he would ruin Kevin's life. Her intent is to be there for Mikey no matter what else happens. She doesn't expect to be attracted to Wyatt and tries to resist it. I loved watching her stand up to him and not let him ignore his grandson. There were some pretty fun scenes as she taught him everything from feeding to diapering. She also found that spending so much time with him started changing her feelings from attraction to love. She was also sure that once he found out about her deception any feelings he might have for her would die in the face of his anger. She came to love Mikey and Chloe so much that she wanted to stay with them all. I loved the ending and how it was Chloe that came up with the perfect solution.